From Roman Reigns to The Rock, WWE Superstars Who Changed their Persona to Become Megastars
Published 05/20/2021, 9:45 AM EDT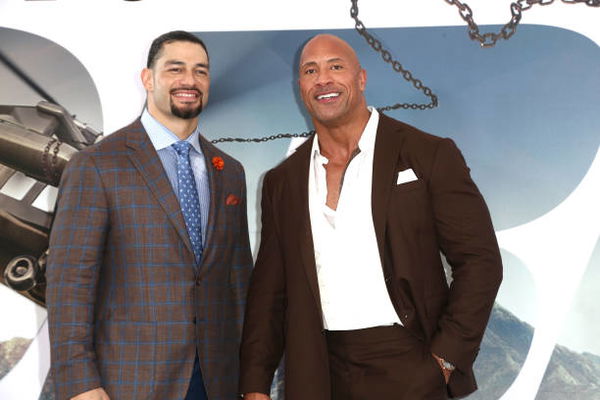 ---
---
Heel turns and face turns are common in WWE. Whenever a Superstar becomes stale in the eyes of the WWE Universe, he/she usually becomes a heel or face. However, there are certain persona changes that made these WWE Superstars the most legendary names in the business.
ADVERTISEMENT
Article continues below this ad
WWE gets their Deadman back
ADVERTISEMENT
Article continues below this ad
In 1999, Undertaker debuted his American Bada** character which made him a big star during the Attitude Era. However, no one can deny that his Deadman gimmick made him the wrestler we know and love today. After being buried alive by his brother in 2003, Taker reverted to his old ways for WrestleMania XX.
He beat Kane at WrestleMania XX, but his subsequent legacy makes him one of the greatest wrestlers of all time. Not only was the Streak growing, Taker held the World Heavyweight Championship multiple times during this reign and even won the Royal Rumble.
It was his his run as the Deadman from 2004 to 2020 that makes Taker a top tier legend in WWE.
The People's Champion is born
When he debuted in 1996, Rocky Maivia was the most hated wrestler in the world. His babyface persona didn't stick with the fans, and chants of 'Die, Rocky, Die' rang out in arenas. Ultimately, he turned his back on the fans by aligning with the Nation of Domination.
Under the Nation, The Rock was born, and he tapped into his heel side. However, we didn't see the real Rock until he became the Corporate WWE Champion, and then, the People's Champion.
During this time, The Rock held the record for the most WWE Championship wins, not because of his matches, but for his undying charisma and promos.
From Stone Cold Steve Austin, to Kurt Angle, to Triple H, to Rikishi and even Billy Gunn fell victim to The Rock's verbal smackdowns. This transition marked the birth of WWE's best smack-talker.
Hustle Loyalty Respect
Fans might've booed him out of the building, but he remained the biggest Superstar in wrestling history. Absolutely no one comes close to achieving John Cena's level of greatness, and it's all thanks to one babyface turn in 2004.
Cena's rise to superstardom began when he dropped his Doctor of Thuganomics gimmick and won the WWE Championship from JBL at WrestleMania 21. He changed the name of his finisher from the FU to the Attitude Adjustment and the STFU became the STF.
Cena's transition from a rebel to the company's franchise player earned the company millions. He became their biggest draw, and his subsequent feuds with the likes of Edge, Randy Orton, CM Punk, Brock Lesnar, The Rock and AJ Styles are some of his best work.
The Legend Killer
Randy Orton doesn't get enough credit for being one of the greatest wrestlers of his generation. The Viper is a fourteen time World Champion, a two-time Royal Rumble winner and a Grand Slam Champion.
However, for a long time, he wasn't in the discussion for being one of the greatest of all time.
The gimmick that made him such a megastar in WWE is the Legend Killer. After beating the likes of HBK, Mick Foley and the Undertaker, Orton adopted the persona of the Legend Killer.
This prompted him to feud with several other wrestling legends, from names like Kurt Angle and Chris Benoit to even Hulk Hogan.
His vicious nature and his persona of 'hearing voices in his head' came from this terrific gimmick that he played to perfection.
Time to play the Game
In 1996, we witnessed the debut of Hunter Hearst Helmsley, a gentleman with proper etiquette but a despicable heel. Fortunately, the gimmick faded away and the leader of D-Generation X was born. After leading DX to several great moments, Hunter sold out and became the Game.
The Game, Triple H, held multiple world championships and ruled Raw from 2002 to 2005. He headlined WrestleMania multiple times and even used his power backstage to influence storylines and decisions.
While this is controversial, it's a testament to how big of a star Triple H became when he changed his persona.
Even though he isn't the Game anymore, we've seen flashes of it in his recent performances, especially against Batista, Kurt Angle and Ronda Rousey at WrestleMania 34 and 35.
WWE gets Rated-R
Just like Randy Orton, Edge is another superstar who doesn't get enough credit for being one of the greatest of all time. He too has held almost every title and held the MITB briefcase (x2) and won the Royal Rumble twice.
However, the gimmick that changed everything for Edge was when he became the Rated-R Superstar. He cashed in his Money in the Bank briefcase on John Cena at New Year's Revolution 2006, after which he engaged in many despicable acts making him one of WWE's top heels.
During this time, he began using the conchairto, a move which could fracture a wrestler's skull. He also had a legendary feud with the Undertaker that stretched across a year.
His team 'Rated-RKO' with Randy Orton also saw him become tremendously successful. To this day, Edge can bank on the Rated-R gimmick to keep him relevant.
Austin 3:16 says WWE will never be the same
After he walked into the arena at the 1996 King of the Ring, you just knew you were about to witness something special. Steve Austin became Stone Cold Steve Austin, the toughest man on the planet with his brilliant King of the Ring promo.
"You sit there and you thump your Bible, and you say your prayers, and it didn't get you anywhere. Talk about your psalms, talk about John 3:16… Austin 3:16 says I just whipped your ass!"
Lo-and-behold; the greatest superstar to grace a WWE ring was born, and Steve Austin had a fairytale with lots of incredible moments. From winning the WWE Title at WrestleMania to winning the Royal Rumble thrice to showering the Corporation with beer and entering the Hall of Fame, Austin has done it all.
WWE, welcome your new Head of the Table
The most recent entry in this piece could be the most effective. Roman Reigns has quickly become WWE's biggest Superstar since John Cena, but he's doing it as a heel. The WWE Universe begged the company to turn Reigns heel, but they cast him in the opposite role for four long years.
ADVERTISEMENT
Article continues below this ad
Those four years must've felt like decades since Reigns received merciless jeers from the WWE Universe. However, things changed after SummerSlam 2020, when Roman returned to WWE as a heel.
He sided with Paul Heyman and won the WWE Universal Championship. He berated his cousin and almost ended his career, forcing him to align with him and become his bagman.
Now, Reigns holds wins over Kevin Owens, Daniel Bryan, Edge, Drew McIntyre and Cesaro. He already has eleven title defences, which are four more than Brock Lesnar, who's held the title twice longer than Reigns. Roman Reigns has 100% brought prestige to the title many deemed cursed.
ADVERTISEMENT
Article continues below this ad