From Ted DiBiase to Ric Flair, WWE Superstars Who Had Money Gimmicks
Published 05/19/2021, 7:45 AM EDT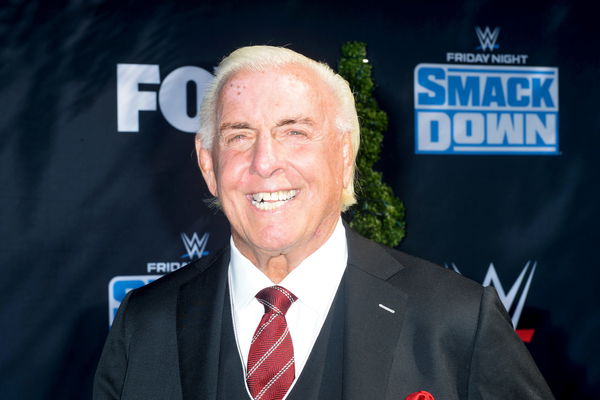 ---
---
Since WWE became a global wrestling force, we've seen many incredible gimmicks come and go. We saw the Ultimate Warrior from Parts Unknown to Undertaker, the Demon of Death Valley, but some gimmicks were simple. The simplicity behind these gimmicks was that these gentlemen were rich.
ADVERTISEMENT
Article continues below this ad
The Million Dollar Man of WWE
ADVERTISEMENT
Article continues below this ad
Ted DiBiase epitomized the word 'rich'. He might've made half of America realize what it takes to be a millionaire. By now, of course, half of the WWE roster is a millionaire, but DiBiase made being rich look greater than it was.
Aside from his riches, DiBiase was one of WWE's best heels. His best work came in 1988 when he paid Andre the Giant to hand over the WWE Title to him.
He's the first person to win the WWE Title by not even competing for it. His son, Ted DiBiase Jr tried to walk in his footsteps, but his career never reached the heights of his father's.
The Nature Boy
He was a 'stylin', profilin', limousine riding, jet flying, kiss-stealing, wheelin' and dealin' son of a gun'. However, he's also one of the greatest wrestlers of all time. Ric Flair was as lavish and extravagant outside the ring as he was smooth and brilliant inside of it.
When his daughter stepped into the ring, everyone claimed she walked in with a silver spoon in her mouth. The spoon might as well have been gold, as Flair blazed a path for his daughter to achieve excellence.
He played a rich man on screen, and off-screen he featured in Migos' Ric Flair Drip music video. If there's anyone who knows how to throw money around to have a good time, it is Ric Flair.
He wore alligator boots, golden Rolex's, the greatest aviators, and even gold chains around his neck. Everything about him, from his look to his presentation to even his theme music, screamed money.
Here comes the money
In 2016, the WWE Universe popped hard when they heard this music hit. Shane McMahon had been a beloved part of WWE, not just off the back of his father's work, but generated a legacy for himself.
Although his entrance music and initial heel run might suggest otherwise, McMahon doesn't own class A shares in WWE that the rest of the McMahons including Triple H, own.
In 2001, Shane shocked his father and the wrestling world when he appeared on WCW Nitro, and claimed he bought the company.
He started the Alliance with ECW, which almost made Vince's life a living hell. Aside from jumping off tall structures, McMahon also owns Ideanomics, a financial technology company, and has a net worth of $100 million.
Alberto del Rio
One of the greatest Mexican wrestlers of all time, Alberto del Rio, is often forgotten when we discuss past champions. He's a former WWE and World Heavyweight Champion, a former US Champion, a Royal Rumble winner, and a former Mr. Money in the Bank.
However, del Rio was literally Mr. Money in the Bank. He drove to the ring in expensive cars, from Bentleys to Rolls Royces to even the sleekest Ferraris one could get their hands on.
What's more, he had his butler doing his ring announcing, which put all other ring announcers to shame. Alberto's career might've ended shockingly, but his gimmick was purely financial.
WWE NXT gets its own Million Dollar Man
ADVERTISEMENT
Article continues below this ad
Cameron Grimes went from being a top-hat-wearing wild man who stomped people in the chest to a classy but crazy gentleman who still stomps people in the chest. His new gimmick where he's suddenly come into a ton of wealth is absolute money.
In NXT, gimmicks aren't given enough importance like the main roster. With Grimes and his new friendship with Ted DiBiase, we could be looking at the next Million Dollar Man or the next Ric Flair.
ADVERTISEMENT
Article continues below this ad