WWE Hall of Famer Shoots on Goldberg and Bobby Lashley's Segment on WWE Raw
Published 10/16/2021, 1:20 AM EDT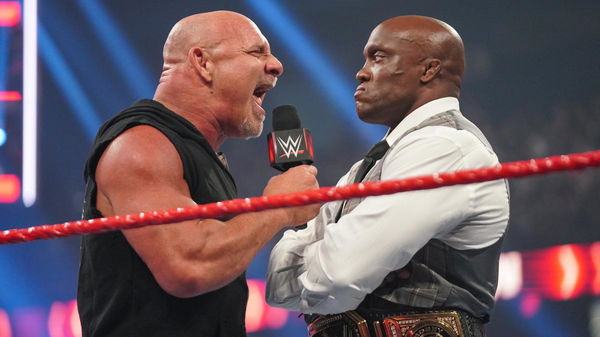 ---
---
Recently, WWE announced a rematch between WWE Hall of Famer Goldberg and Bobby Lashley. This event will take place at WWE Crown Jewel on October 21. Goldberg's return on this week's Monday-night Raw via satellite made this match official.
ADVERTISEMENT
Article continues below this ad
Recently, though, a WWE Hall of Famer reacted strongly to this and called this a drastic move from the brand. 'Eric Bischoff', former WCW President and an inductee of WWE Hall of Fame in 2021 was the one to talk about the same. He shared his thoughts on the latest episode of the 83 Weeks Podcast.
ADVERTISEMENT
Article continues below this ad
Watch this Story: "Too Soft" – Former WWE Champion Makes a Controversial Statement on Cristiano Ronaldo and His Abilities
Bischoff on this week's Raw segment announcing Goldberg vs Lashley 2
Bischoff looked completely disheartened after knowing about this rematch. Most of WWE pundits and fans expected Goldberg's return. That's because in their previous encounter at SummerSlam 2021, Lashley not only dominated an easy win against Goldberg, but after the match, he even attacked his son Gage Goldberg.
Since then, everyone believed that WWE will surely plot a story for Goldberg to take his revenge. And finally, after around two months, the rematch has been scheduled.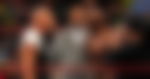 The WWE Universe has had mixed emotions for this rematch. Eric Bischoff, the veteran of the sport, was the first one to speak about it. He reacted to Goldberg's saying that 'he will even kill Lashley'. Bischoff said, "The minute that happens, you've lost the audience. I don't know how to say this without saying it so I'll take whatever s**t I take, but they know you're not going to deliver."
Bischoff also stated Goldberg's behaviour like a teenage-boy who want to revenge being beaten up. He said-
(h/t Wrestling Inc), "You're just saying something a 15-year-old or 16-year-old would say to somebody else as they're getting their a** kicked in a school yard somewhere." h/t Wrestling Inc),
Bischoff's Love for Bobby Lashley
ADVERTISEMENT
Article continues below this ad
Bobby Lashley and Eric Bischoff have known each other for a very long time. They both share a bond since TNA. Bischoff feels WWE is not ranking Lashley on his levels.
He believes that not only him, even his other colleagues such as Kurt Angle, and Brock Lesnar respect Lashley a lot. He even shares a scenario where Lashley was assigned to be the Bound for Glory 2011 champion, TNA; however, script rolled-over.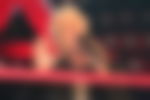 ADVERTISEMENT
Article continues below this ad
Bischoff was unhappy that the WWE creative team had not been promoting Lashley on big grounds and was keeping him busy with storylines like of Goldberg.
Will Bischoff finally succeed in his hopes of watching Bobby Lashley portraying the central-figure in the brand? Only WWE and Vince McMahon can answer this question. Till then, we can watch and enjoy the show. Also, share your comments below.