'He Beat John Half to Death' – Arn Anderson Makes a Shocking Revelation About Kurt Angle-John Cena Rivalry
Published 03/23/2021, 11:38 AM EDT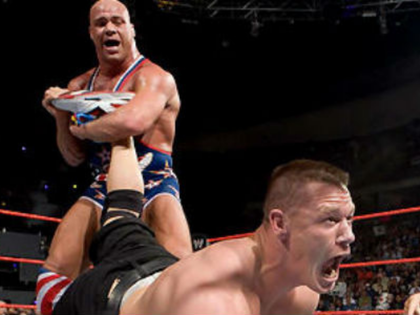 ---
---
John Cena and Kurt Angle have had a great run as rivals. However, Cena had to learn the hard way what it meant to ensure one wrestler maintains respect for the other at all times during a match.
ADVERTISEMENT
Article continues below this ad
As a young wrestler, Cena made a gesture which angered Kurt Angle. Hence, when the former returned to the ring, Angle beat him black and blue.
Arn Anderson revealed exactly what happened.
ADVERTISEMENT
Article continues below this ad
"All of a sudden I see John, out of nowhere during a random time in the match he roles out of the ring. Goes over the rail about 15 rows deep, grabs one of those big foam hands and folds it into a bird and points it at Kurt Angle.
"The audience popped, but as he gave it back and came over that rail to re-join the match, guess who was waiting on him and not too happy about what just happened? That would be Kurt Angle, and he proceeded to beat John half to death."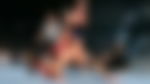 However, Anderson clarified that it's only with mistakes that young wrestlers learn, and that's how they grow.
"He got a little stiff and snug with him. Because it was something that did not work in the match, it was unprofessional, it was just a foolish thing to do during that point in the match. It's just one of those things that goes through the learning process, if you learn from those mistakes you can accelerate and move forward." (H/t WrestlingInc)
Of course, John Cena went onto becoming one of the top Superstars of WWE, and even now has a tremendous impact whenever he makes an appearance.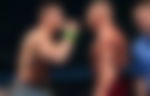 John Cena won't return to the ring anytime soon
ADVERTISEMENT
Article continues below this ad
John Cena confirmed that he won't be present at the upcoming WrestleMania because of his shooting schedule. He has to be in Canada during the time WrestleMania will be ongoing, and if he moves forth and back, he will have to quarantine both times. His tight schedule will not permit a WrestleMania appearance.
"It's very difficult to say because I know it's going to be disappointing for a lot of people, but according to the letter of regulation right now, there is no mathematical way I can be at WrestleMania this year." (H/t Forbes)
The last time John Cena was present was during WrestleMania 36 against Bray Wyatt.
ADVERTISEMENT
Article continues below this ad