"He Didn't Want To Make Peace" – Kurt Angle Recalls Massive Backstage Fight with Eddie Guerrero
Published 10/02/2020, 11:31 AM EDT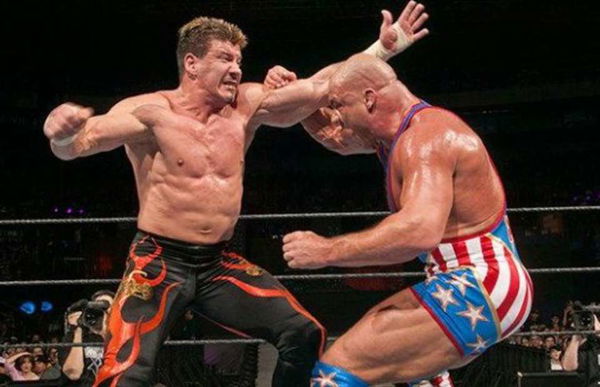 Misunderstandings and backstage fights are nothing new in the wrestling world. The American Hero, Kurt Angle, is no different. He got into two backstage fights with WWE Hall of Famer Eddie Guerrero back in the day.
ADVERTISEMENT
Article continues below this ad
In the latest episode of Steve Austin's "Broken Skull Sessions" podcast (h/t Fightful), Kurt Angle looked back at the mid-2000s. He and Guerrero shared quite a rivalry back then and even had a WrestleMania moment. Nevertheless, the duo got involved in a bad fight as the latter accused Angle of stifling him while Angle blamed Eddie's physical condition for the scuffle.
"There were nights where he would blow up right away and he couldn't catch his breath and stay with me and then there were some nights where he was on fire. So I didn't know if it was something personal or if he was just too old or too beat, but he had a bad heart. He had to because the night that we got into a fight, he attacked me for stiffing him and I didn't touch him."
ADVERTISEMENT
Article continues below this ad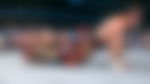 During this time, Eddie was slowly falling prey to heart disease, without his knowledge. The disease led him to be exhausted in the ring, much to Guerrero's frustration.
Kurt Angle said Big Show intervened between him and Eddie Guerrero
As the legends fought each other, Big Show had to intervene and play peacemaker. This was necessitated as Angle was choking Eddie out. He pulled both of them apart and tried to have a civil discussion. However, this further infuriated a frustrated Angle.
"Then Big Show comes and this is what really pissed me off. He gave me the little guy syndrome. Big Show grabbed me by the tights, the back of my tights, and he picked me up like I was a little kid, grabbed me by one side, then grabbed Eddie by the other, set me on one side of the room and Eddie on the other side."
ADVERTISEMENT
Article continues below this ad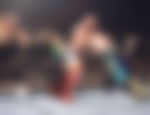 Angle continuously tried to make peace but Guerrero was not having it. After accusing Eddie of "manhandling him," Angle extended an olive branch and apologized. However, Eddie was not ready to end the misunderstanding, leading to another physical confrontation.
Read more – Vince McMahon Gets Blasted Over Controversial Twitch Decision
ADVERTISEMENT
Article continues below this ad
"So we start fighting again. I attacked him, double legged him, and got him down. Big Show was there again. So we got into two fights because he didn't want to make peace and I was upset because he was accusing me of stiffing him."
Eddie Guerrero fell prey to underlying atherosclerotic cardiovascular disease in 2005. On November 23, the 38-year-old Eddie Guerrero passed away due to heart failure in his hotel room. On the next Raw and SmackDown, WWE Employees paid their respect to the icon. Eddie was inducted into the WWE Hall of Fame in 2006.