He Looks Scary As Hell- Kurt Angle Details Experience Of Working With WWE Legend The Undertaker
Published 04/16/2021, 10:47 AM EDT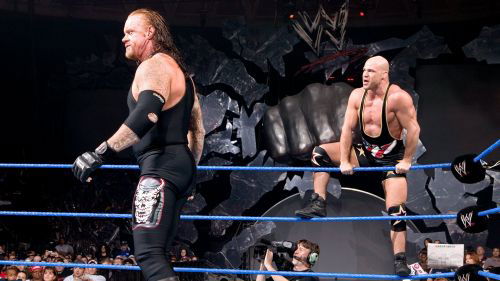 ---
---
Kurt Angle is a 14-time pro wrestling world champion and 2017 WWE Hall of Famer. He has won titles in WWE, TNA, and Japan.
ADVERTISEMENT
Article continues below this ad
At every stop in his illustrious career, Kurt has reached the peak, and now is taking to the podcast world with "The Kurt Angle Show". He talks about matches, feuds, and moments which turned an Olympic gold medalist into one of the finest sports entertainers of all time.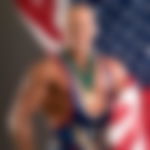 ADVERTISEMENT
Article continues below this ad
Kurt Angle on The Undertaker
On Apr 15, 2021, in an episode of 'The Kurt Angle Show', host Conrad Thompson asked Angle about his experience on Undertaker's entrance after Angle's win over Mark Henry for the Royal Rumble 2006 – World Heavyweight Championship. Kurt's reply was with nostalgia and awe alike as he said,
"It was euphoric. Any time I'm in a ring and Undertaker's entrance hits, I mean I- I'm -I'm not being disgusting here but I want to or***m. I mean it's-it's or***mic you know? Being out there you just mark out you're like holy sh*t, it's Undertaker, and he's coming toward me nice and slowly, and he looks scary as hell. It is the coolest entrance I've ever seen of anybody, period" 
Undertaker Wants To Face Angle
Kurt revealed that The Phenom wanted to face him at WrestleMania, to which Kurt replied with a resounding yes. With both Taker and Angle in agreement, they went over to Vince for the booking of the match. But Vince had other plans and rejected the idea on the spot. Kurt explained that Vince declined their request to keep the Undertaker's undefeated streak at WrestleMania intact. Vince McMahon then booked a match between the two at No Way Out. Kurt said,
"He didn't tell me why I would end his undefeated streak, but the reason was I was going to win the world title right and then uh you know? and then go to WrestleMania and then I would have to wrestle somebody for the world title holding the world title.
"I think that Vince McMahon felt I was gonna help hold the world title at WrestleMania which I didn't, and we'll get to that later- but um you know Taker, it was it was really awesome that to have him at uh No Way Out but the reason that Vince booked it was we wanted the match at WrestleMania so Vince said no but we're making it No Way Out, so he booked the match.
ADVERTISEMENT
Article continues below this ad
"Angle versus Taker at No Way Out to replace WrestleMania idea that we had."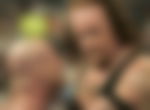 Kurt Angle And The Undertaker Team Up
ADVERTISEMENT
Article continues below this ad
On the February 3 episode of SmackDown, Angle and Undertaker are in the ring together to cut a promo. Undertaker walks out first to the ring, letting everybody know that he's got his sights set on the World Heavyweight Championship. Angle follows with his classic theme.
It was a nice promo that sets the tone for their big match.
Teddy Long, the general manager of SmackDown at the time, booked a tag team match between Kurt Angle & The Undertaker VS. Mark Henry & MNM. When asked about how he liked working with Undertaker as a tag partner in this particular instance, Kurt replied,
"It was great. The Undertaker was awesome. You know anytime you can tag team with Undertaker you know you're in a good spot and he's so seasoned. And just you know, he has so much experience, the match is more methodical when you have Undertaker in there. So it slows down a little bit more, and it tells a better story. And even in tag matches, he's able to produce the athletes in the ring to do better and tell a better story.
"And if they're going too fast, we'll say slow down! slow down, you know, but sell for me you know just take your time. Don't rush things so I you know the thing is and you when you tag with Undertaker you know you're going to get a lot of time, right? So you know the office is going to give you as much time as you need that's always a good thing you always want more time than less time."
Trending Stories