"He's Very Underrated in the Ring"- WWE Hall of Famer Kurt Angle Calls Stone Cold the Best in Ring Worker
Published 02/17/2021, 12:38 AM EST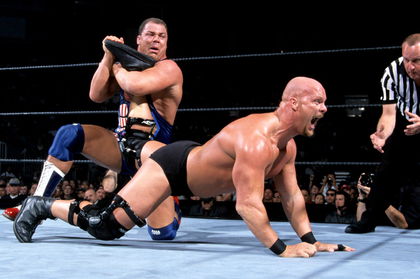 ---
---
During his legendary WWE career, Kurt Angle faced a bunch of iconic wrestlers. The Olympian had a scintillating rivalry with Stone Cold Steve Austin, which culminated in an absorbing title win for Angle. During an episode of his podcast, Angle revealed Austin was the best in ring worker in WWE.
ADVERTISEMENT
Article continues below this ad
Kurt Angle praises WWE legend Stone Cold Steve Austin
ADVERTISEMENT
Article continues below this ad
Angle and Austin faced off at SummerSlam 2001 during the height of the Invasion angle. Austin was the heel champion, while Angle was the valiant babyface. The match was a superb twenty-two minute war between WWE's best wrestlers.
During The Kurt Angle Show, the Olympian opened up on his rivalry with Austin and praised him heavily. He referred to Austin as an underrated talent and a versatile wrestler.
"Stone Cold Steve Austin, he can adjust anything. That guy was the best thing ring worker I've ever worked with. He's very underrated in the ring."
Angle praised Owen Hart too, one of Stone Cold Steve Austin's biggest rivals. Kurt's words are not shocking at all, given the legendary career amassed by Austin. His matches against Bret Hart, The Rock, and of course Kurt Angle are still revered.
Is Austin the most important wrestler in WWE history?
The Mount Rushmore of wrestling will comprise Hulk Hogan's head in the beginning. Hogan carried the company through the 80s and became a name bigger than the WWE itself. The second head on the Mount Rushmore of wrestling is undeniably Stone Cold Steve Austin.
ADVERTISEMENT
Article continues below this ad
Austin created a legacy that WWE cannot replicate or diminish. He created an entire genre of wrestling that is not even wrestling, a fusion of wrestling moves and bar-room brawling. This style exploded in the Attitude Era, and major props go to Austin.
Every title felt important when Austin held the won or lost it. He single-handedly made the WWE Championship the most prestigious championship in the world, working on the legacy generated by previous holders. His work as a heel and the anti-corporate, anti-hero is second to none.
Put these accomplishments together, and top it off with the fact that Austin helped WWE win the Monday Night Wars, and you've answered whether he's the most important wrestler in WWE history.
ADVERTISEMENT
Article continues below this ad