Dwayne Johnson Was Brutally Embarassed By His Father Rocky Johnson on Purpose for a Major Eye-opener
Published 08/11/2022, 10:00 AM EDT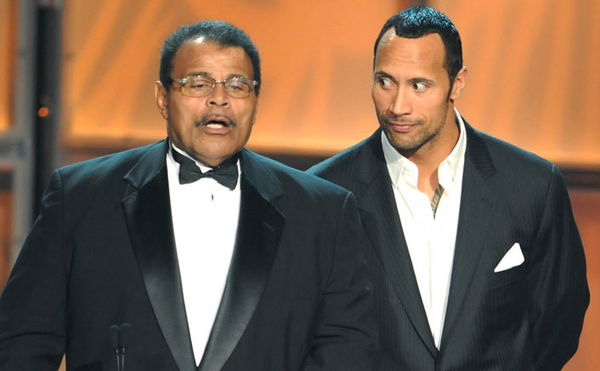 Rocky Johnson was an idol of his son Dwayne Johnson. They had a great bond, and The Rock learned a lot of things from his father. To list a few of them it involves, lifting weights and pro wrestling.
ADVERTISEMENT
Article continues below this ad
As seen in the NBC series Young Rock, The Johnson father-son duo worked out together. Once The Rock shared a lesson his father taught him about lifting weights.
ADVERTISEMENT
Article continues below this ad
A couple of years ago when the pandemic hit, Dwayne Johnson shared a video from his gym. He explained to his fans what Rocky Johnson told him when he started working out at the age of 12 years old. The Soulman had to embarrass The Brahma Bull while doing his first bench press to teach him not to train for the satisfying ego but to train for results.
The Rock recalled, "So we stripped off the 35lbs, out on the 45lbs plates. He goes remember what I told you, you better push this off your chest. I said I got it. I'm feeling myself at 12 years old and I don't know why by the way that with a f**ked afro and acne all over the place. But I was still feeling myself. He gave me a lift off and I took that away. I went down with it and I could not control that."
Johnson, at 12 years doing a bench press with 45lbs plates, was stuck midway holding the bar. The Rock started to get panic while The Soulman was yelling 'Push up the weight'. However, he wasn't able to push the weight anymore.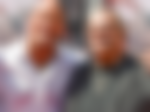 Rocky Johnson was chewing tobacco, and while yelling, the spits were all over The Rock's face. He said, "He is got spit coming out of his mouth. It's falling on my face and sh*t, I'm getting embarrassed and he is like push it up." 
However, Johnson ditched one of the plate by tilting the bar and the other plater fell due to momentum, and got angry at his dad for not helping him. It embarrassed him as The Soulman didn't help him and everyone was looking at The Rock.
The People's Champion then added, "He just looked at me and he goes, 'Now pick up the weights'. When I pick up the weights, he goes, 'Here's a lesson for you'. He said, 'Don't worry about other people looking at you and don't ego train. It doesn't matter who gives a sh*t, who's watching you. You train for results and you train with weight that you can control."
This advice changed the perspective of Dwayne Johnson regarding working out. Since then, he trained for results and over the years everybody has seen those results. The Rock is a gym freak and takes care of his body by working out at least six times a week.
How many gyms Dwayne Johnson has?
After starting to train with his father at the age of 12-years old Dwayne Johnson fell in love with lifting weights. As of today, The Rock never misses his workouts unless there are much more serious things.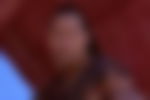 Johnson has two permanent home gyms. We popularly know them as Iron Paradise. The first is at his Miami mansion, where he stays most of the time, and another at his Virginia farm. Adding to that, The Rock has a traveling gym which he takes everywhere while he is away for filming.
ADVERTISEMENT
Article continues below this ad
 

View this post on Instagram

 
The travel gym which is trucked or shipped to the location where the filming of the movie is. Moreover, a huge crew assembles the new workout space to the superstar's specifications.
ADVERTISEMENT
Article continues below this ad
What are your thoughts on The Rock's workout schedule? Share your opinion below.
Watch This Story:- Top Six Hollywood Movies of Former WWE Champion Dwayne "The Rock" Johnson