Holy S**t! Randy Orton Throws Drew McIntyre Off the Cage at Hell in a Cell
Published 10/25/2020, 10:48 PM EDT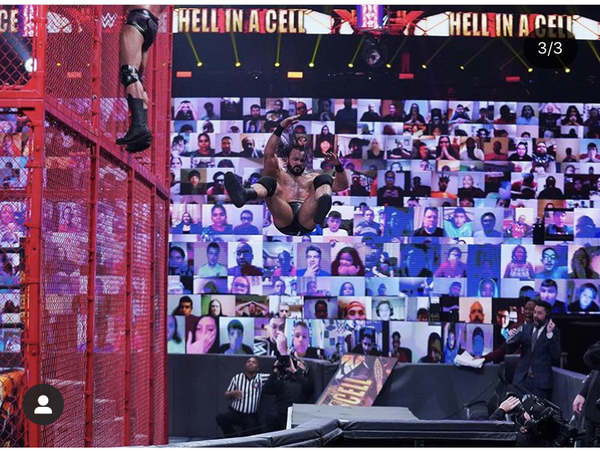 ---
---
Drew McIntyre suffered a terrifying and devastating fall off the Hell in a Cell. Randy Orton bounced McIntyre's head off the cell, causing McIntyre to crash through the announcers table.
ADVERTISEMENT
Article continues below this ad
ADVERTISEMENT
Article continues below this ad
Drew McIntyre fell into Orton's trap
Randy Orton lured Drew McIntyre to the top of the cell. He cut the chains locking the cell with a bolt-cutter, a callback to the end of the go-home episode of Monday Night Raw. McIntyre followed Randy to the top and took Orton down, even though he had a pipe beam in his hand.
Orton looked to escape from the top after a strike with the steel pipe took down McIntyre. Both men scaled the cell downwards, carefully placing their feet to avoid a deadly fall.
Randy threw the first strike while hanging off the cell. A couple of shots and ramming McIntyre's head through the cell wall was enough to send the champion crashing down.
McIntyre endured the horrible bump and continued to fight, even hitting Orton with the Claymore Kick. Orton smartly managed to summon the energy to roll out of the ring. Excellent ring awareness from the Viper was on display.
The finish to the match
McIntyre rolled Orton in and looked set to seal the victory with another Claymore. Orton, however, ducked out of the way and connected with a devastating RKO. The referee slapped the mat thrice and a new WWE Champion was crowned.
The RKO gave Orton his 14th World Championship and ended Drew McIntyre's brilliant reign at 203 days. Orton will be heading into Survivor Series as champion, in spite of there being rumours of a Drew McIntyre vs Roman Reigns dream match.
Seeing McIntyre's reign come to an end at the hands of the Viper is disheartening to many WWE fans. Orton is enjoying his best run of the decade but sacrificing Drew's incredible run seems like a very anti-climatic end to Hell in a Cell.
ADVERTISEMENT
Article continues below this ad
Drew McIntyre and Randy Orton took some sick bumps
ADVERTISEMENT
Article continues below this ad
Shocking result aside, the match was a fine one with a few exciting spots. Drew hit Orton with an overhead belly-to-belly suplex through a table. Orton stomped McIntyre's head against the steel steps in a brutal fashion.
The final spot of the night was McIntyre crashing through the announcer's table, in what the announcers referred to as the moment the match escaped from McIntyre. The rivalry with Orton does not seem to be over, but only time will tell where both superstars go from here.