How did CM Punk Ruin Jeff Hardy's Big Push in 2009?
Published 12/14/2020, 10:00 AM EST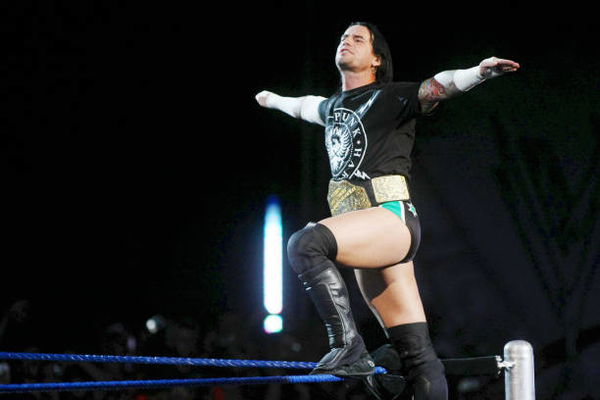 ---
---
The WWE was a strange place in 2009. With Randy Orton winning the Royal Rumble, Triple H as WWE Champion and Undertaker and Shawn Michaels stealing the show at WrestleMania, WWE needed some young blood to rise to the occasion. In the hopes of that, WWE discovered the magnificent storytelling ability of two bright superstars- Jeff Hardy and CM Punk.
ADVERTISEMENT
Article continues below this ad
The iconic CM Punk vs Jeff Hardy rivalry
ADVERTISEMENT
Article continues below this ad
Two very controversial figures in the business, Hardy and Punk would have a rivalry that would span about five months. It began at Extreme Rules, when Hardy defeated Edge for the WWE World Heavyweight Championship. As Hardy celebrated, Punk was lurking in the background, and jumped at the chance to successfully cash in his Money in the Bank contract.
This kickstarted what is quite possibly the best feud of 2009. Punk and Hardy were incredible athletes. Hardy's high flying style meshed with Punk's technical wizardry quite perfectly. Unfortunately, the storyline was a gateway for WWE to get rid of Jeff Hardy.
Hardy was a figure of controversy. On September 11, 2009, Hardy was arrested on charges of trafficking in controlled prescription pills and possession. This spelt trouble for Hardy's career as a professional wrestler.
Hardy's vices were exploited by WWE
WWE exploited these facts by having Punk ridicule Jeff for his addiction issues. CM Punk began to criticize Jeff Hardy for his "living in the moment" lifestyle compared to his own straight edge way of life. He told Hardy that he was a failure due to his multiple suspensions and failed drug tests.
This created the perfect storm which was the TLC match at SummerSlam. WWE has always benefited from adding cool stipulations to heated rivalries.
This notion evaporated once WWE introduced separate PPVs for the stipulations. The match at SummerSlam absolutely ruled with both men performing some incredible stunts and high spots.
Hardy and Punk finished the match in absolutely wonderful fashion. With Punk laid out on the announcer's table, Hardy hit him with a massive Swanton Bomb from the top of a ladder. Punk was out, but Hardy suffered the most damage. His risk made sure Punk was the first one to emerge out of the rubble and make his way up the ladder.
CM Punk and Jeff Hardy put on a classic TLC match
As Punk slowly climbed, Hardy began to stir and also started climbing up the ladder. Punk managed to knock Jeff off the ladder and win back the World Heavyweight Championship. A beautiful ending to an equally beautifully violent main event.
The rivalry did not end there, with Punk and Hardy scheduled to face once again on SmackDown, this time inside a steel cage.
ADVERTISEMENT
Article continues below this ad
To get rid of Jeff, WWE attached a 'loser leaves WWE' stipulation to the match. Punk once again prevailed in a perfect climax to their incredible series. Hardy was released, and he took the time off to heal his injuries as well as deal with law enforcement.
Matt and Jeff sniped back at Punk
Both Matt and Jeff Hardy were angry at CM Punk for cutting a couple of promos about Jeff after his departure. The duo even made a video trashing the former WWE superstar which was ultimately deleted by the Hardys.
ADVERTISEMENT
Article continues below this ad
The rivalry between Jeff Hardy and CM Punk is a testament to how WWE mix kayfabe with reality to create pro wrestling magic. In the process, they created a top heel in Punk and made Hardy look like the biggest babyface in company history, despite his vices.