How Did The Brock Lesnar – Sable Love Story Start in WWE?
Published 12/20/2020, 10:52 AM EST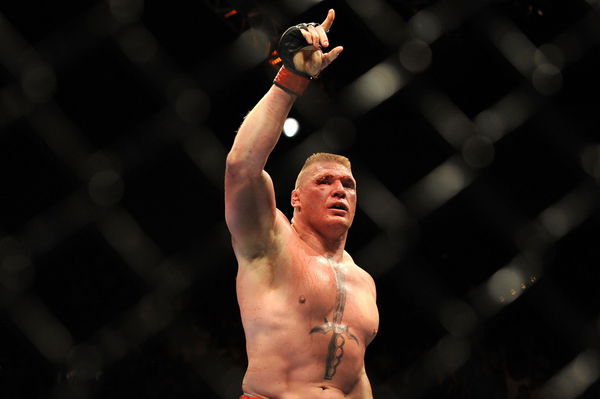 ---
---
Brock Lesnar parted ways with WWE in 2020. However, he still has an undeniable tie to WWE in his life. He met his current wife, Sable, former Women's Champion in WWE (then WWF).
ADVERTISEMENT
Article continues below this ad
The couple got married in 2006. However, both of them had been married previously. Despite both being in the business, their relationship has stood the test of time.
Sable and Brock met each other during a unique time in both of their lives. While Brock was surging as a wrestling powerhouse, Sable was in the middle of a career crisis of her own, as well as a crumbling marriage with Marc Mero.
ADVERTISEMENT
Article continues below this ad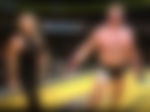 Sable, Rena Greek got into wrestling with Mero, her trainer, and husband. She debuted as the manager of Triple H. However, she got involved with Mero after a while.
She eventually became one of the most prominent women's superstars in the Attitude Era, winning the Women's title. Despite having success, Rena left WWE in 1999 due to a contract dispute. However, she came back in 2003.
Not a lot has been said about their relationship as they wanted to keep their relationship under wraps. However, it is believed that Brock and Sable began dating after her return in 2003.
Sable started dating Brock Lesnar while she was married to Marc Mero
In an interview with HannibalTV, Sable's former husband Marc Mero revealed that Lesnar and Sable got involved when Mero and her marriage took a hit.
"I dialed the number, and it said she had two unheard messages. I said, okay, I have to listen to the first one to get to mine. It was a man's voice apologizing for the night before.
ADVERTISEMENT
Article continues below this ad
"I was like, 'What the heck?!' It was graphic, and I was taken aback. Then I realized that she's seeing somebody else. It was devastating, you know? I thought we were gonna be married forever."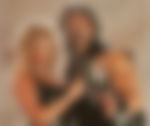 He then confronted Sable and got to know the reality of the relationship. "I picked her up at the airport, and I said, 'I wanna know who this is'.
ADVERTISEMENT
Article continues below this ad
"She tried to deny it, but then she said she'd be moving out and she wants a divorce. It was like my world ended there, man. It was the most devastating, hurtful — I didn't know what I was going to do."
Marc Mero eventually recovered from the trauma of the divorce. Sable and Lesnar got married in 2006 and have two kids together. They were never paired on-screen. However, they are happy together.