How Did WWE Personnel Safe the Live of Jerry 'The King' Lawler?
Published 06/13/2021, 8:45 AM EDT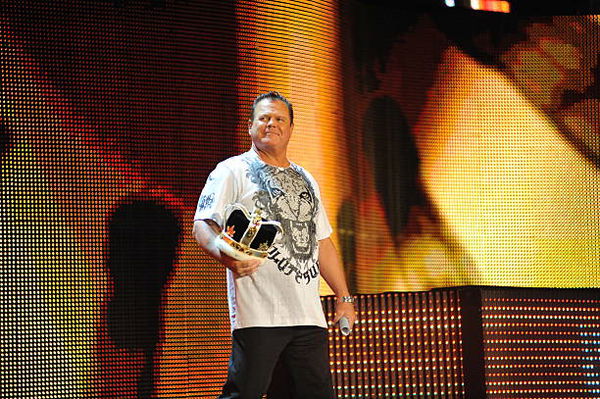 ---
---
At the Euro 2020, Denmark midfielder Christian Eriksen collapsed during the first-half. Unclear of the situation, the match stopped with fans wiping away their tears. Fortunately, Eriksen survived, but it reminded WWE fans of a moment on Raw involving Jerry 'The King' Lawler.
ADVERTISEMENT
Article continues below this ad
Jerry 'The King' Lawler suffered a heart attack on Raw
ADVERTISEMENT
Article continues below this ad
Few know that Jerry Lawler is one most legendary names in wrestling. He remains one of the greatest wrestlers of all time. His career continued when WWE was interested in keeping him on the commentary team past 2010.
On an episode of Raw on September 10, 2012, Michael Cole noticed Lawler snoring. On the Busted Open Show, Cole recalled the moment he saw Lawler snoring.
He said, "So in the middle of this match I heard Jerry snoring and I thought he was doing like I used to do when I was a heel, especially back in the NXT days. I thought he was making fun of the match in the ring and I thought he was snoring because the match was boring. So I chuckled because I thought that's what he was doing and then I looked over to Jerry to my left and Jerry was laying down on the table, his head was down, and he was literally snoring. At that point I thought this obviously isn't good, he looked blue."
"So I jumped up, first thing I did and I'll never forget this is I hit my mute switch on my box because I was screaming for the doctor. Luckily we had Doc Sampson at ringside. So I'm screaming for the doctor, 'Doc, doc, Jerry needs you,' and I hit the mute switch I think out of instinct but I'll never forget. I remember doing it because I knew something serious was happening."
How did WWE react to the situation?
Immediately after Cole notified the ringside doctor, EMTs arrived, and they wheeled Lawler to an ambulance. They performed emergency CPR on the Hall of Famer inside and took him to a hospital. Meanwhile, Cole kept things running on Raw while providing updates on Lawler's condition.
"Then obviously we went to commercial break and during the break they hauled Jerry off in a stretcher and all that. So I'm down at ringside and I've got to do the rest of the show for an hour. I had no idea what's going on. I've got my producers and Triple H and others telling me and giving me updates in my headset which I would come back on the air and say, 'hey, this is the latest we heard,' and so on and so forth."
"Then at about 10:30 eastern, about a half hour before we went off the air, I remember somebody came in my headset. I can't remember who it was, and they said, 'Michael, you need to prepare for the worst.' I'm like, 'ok,' and they said, 'you need to be prepared to deliver the news.' So at that point I knew what they were talking about obviously." (H/T Bleacher Report)
After commentary stopped, 18,000 fans and millions watching at home watched in confusion. Fortunately, Cole announced in an emotional moment that Lawler is stable and his heart was beating again.
Watch this story: Six Opponents of WWE Legend The Undertaker That Were Taller Than Him
Did Jerry 'The King' Lawler return to commentary?
ADVERTISEMENT
Article continues below this ad
After the horrible incident, Lawler recovered for three months. On November 12th, 2012, Lawler returned to commentary. His legacy as a wrestler and commentator continued. He remained the voice of so many incredible matches in the coming years.
WWE capitalised on the moment and squeezed every bit of emotion from the incident. It remains a moment that had fans audibly gasping.
ADVERTISEMENT
Article continues below this ad