"I Beat Him on Two Weeks' Notice"- Dan Ige Calls Out Edson Barboza For a Rematch
Published 05/25/2020, 7:14 PM EDT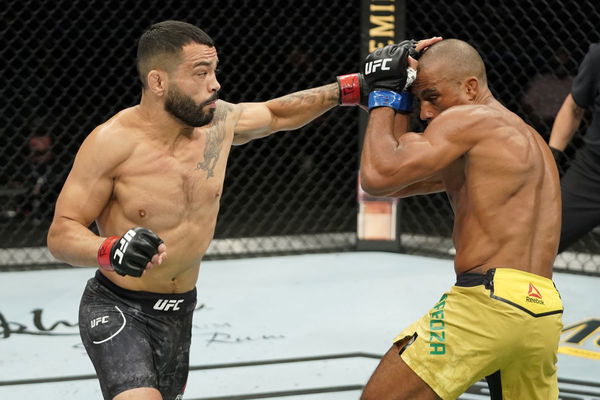 The UFC's triple fight card weekend in Jacksonville, Florida, after a long hiatus, saw a tightly contested featherweight bout between division staple Dan Ige and perennial top 10 lightweight contender Edson Barboza.
ADVERTISEMENT
Article continues below this ad
Edson Barboza's prospect at a winning debut in the featherweight division was put on hold as the judges gave the split decision nod to Dan Ige. Fans and critics were quick to take to social media to voice their discontent over the judging, calling it the 'robbery of the night'.
The event had questionable decisions scattered all over the card. However, this fight stuck out as potentially the most egregious. Much was made of Barboza's cut down to featherweight, and now facing his 3 loss in a row, questions surrounding the veteran's future have made rounds.
ADVERTISEMENT
Article continues below this ad
Barboza was quick to dispute the result. In a rather bizarre turn of events, he took it upon himself to demand a win bonus from the promotion despite the contest officially adding to his recent skid.
Following the bout, Dan Ige expressed a desire to fight number four ranked 'The Korean Zombie' Chan Sung Jung during the Post-fight press conference. However, a few days later, Dan Ige spoke to TMZ, saying that he would grant Barboza a rematch.
ADVERTISEMENT
Article continues below this ad
Dan Ige welcomes rematch to silence critics
"I beat him on two weeks' notice. Give me eight weeks and I'll see what I can do to him," he said.
Ige seemed satisfied with the outcome. However, in the talent stacked featherweight division, close-run victories may not be the most prudent route ahead.
ADVERTISEMENT
Article continues below this ad
In a night of closely contested match-ups, the biggest talking point was the 'robbery' of Edson Barboza's featherweight debut. The potential sequel could provide better clarity as to the future of both the fighters in question. Considering Edson Barboza's strong display during most of the fight, coupled with his smooth transition to featherweight, oddsmakers would have the numbers in his favor, come to the rematch.
As for Ige, a rematch would help him break into the top 10, and push him to a clearer path at title contention.