"I Got the Wind Knocked Out of Me" – Kurt Angle Recalls a Botch from His Wrestlemania Match against Shawn Michaels
Published 03/13/2021, 8:30 AM EST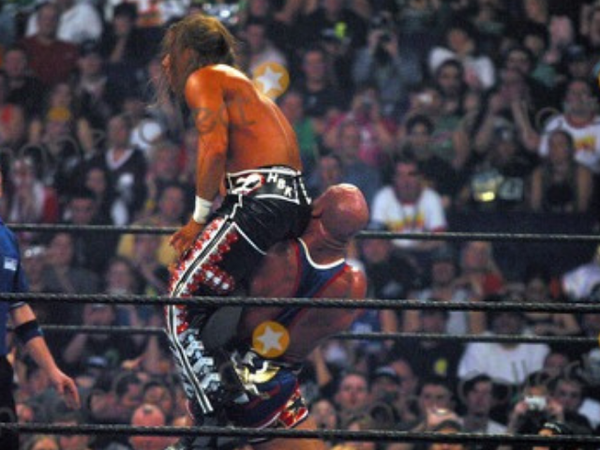 ---
---
Kurt Angle and Conrad Thompson discussed a botch from WrestleMania 21 on The Kurt Angle Show.
ADVERTISEMENT
Article continues below this ad
Shawn Michaels delivered a moonsault on Kurt Angle while the latter was on the table, but the table didn't break. This meant that Angle suffered all the impact generated from the collision.
"That table didn't break, oh my gosh. The worst part about that is you feel every big of Shawn coming down on you. He's 200 pounds. He's doing a moonsault from eight feet in the air, probably ten feet across to where the table is and you're taking all of it. It was really painful.
ADVERTISEMENT
Article continues below this ad
"You know, the table not breaking, you want the table to break because it gives and it takes a lot of the blow away. That's the trick to it, yeah. Unfortunately, it didn't break and I got the wind knocked out of me and you know, sore for a few days. That's the most painful thing that happens in a match."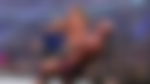 Kurt Angle revealed that was the first time that he had teased a German Suplex from the apron. The audience were at the edge of the seat to watch it happen. However, Michaels delivering the moonsault had everyone's eyes popping out.
Kurt Angle revealed a second botch from WrestleMania 21
There was another botch from the same event that compelled Angle to retire a move.
After avoiding the German Suplex, he attempted the Angle Slam with a twist on Michaels. He slammed HBK against the ring post instead of the floor. Unfortunately, he didn't line up HBK properly and botched the move.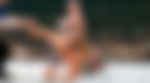 ADVERTISEMENT
Article continues below this ad
"Well, he didn't hit his hamstring. He hit his a**. I didn't have him lined up properly, and I went backward and Shawn; it was a little lower on his body, but it did the job. It made sense. There was nothing wrong with the move, whether I hit his lower back or his a**. I think the fans got an idea of what I was trying to do."
Even though it didn't injure Shawn Michaels, Kurt Angle decided to never use it again after not executing it properly. He revealed that one reason he attempted it is because HBK came up with the idea.
The match ended with HBK tapping out after Angle had him tangled with the Angle Lock.
ADVERTISEMENT
Article continues below this ad