"I Hit the Back of My Head on the Mat" – Kurt Angle Recalls Wrestling Three Matches on One Night With a Concussion
Published 07/14/2021, 8:49 AM EDT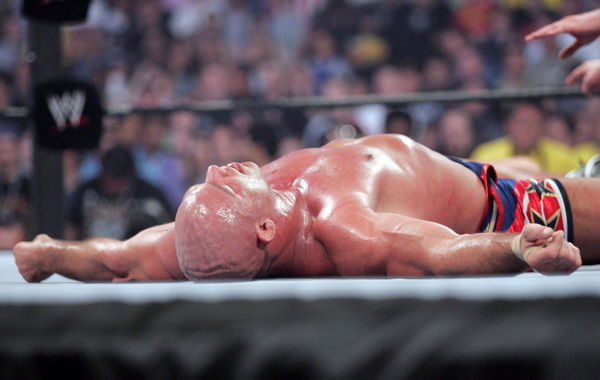 ---
---
Wrestling is a dangerous sport and there have been many instances where an unplanned injury has affected a wrestler's career badly (ask Bret Hart about this). A similar incident happened with Kurt Angle when he had to fight three matches in one night at King of the Ring PPV in 2001. Ironically, Angle suffered a concussion during the first match itself.
ADVERTISEMENT
Article continues below this ad
Kurt had to fight three matches that night against Christian, Shane McMahon, and Edge respectively. It was the very first match against Christian where he suffered the concussion halfway into the match. It happened when he bumped his head against the mat while delivering a belly-to-belly; the match ran just shy of nine minutes with Angle not understanding what was going on.
ADVERTISEMENT
Article continues below this ad
"We just bumped heads, and when I caught him with a belly-to-belly, we bumped heads. And when I threw him, I hit the back of my head on the mat." Angle explained how he got concussed that night.
Read this story: The Most Extreme Moments in WWE Money in the Bank History
Kurt Angle shares what went wrong at WWE King of the Ring 2001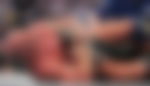 On his podcast, The Kurt Angle Show, the former WWE champ emphasized how he was instantly out of his bearings after his first match of the night and was unable to continue.
He said, "Yeah, I got a concussion halfway through the first match with Christian. I got lost in the match at a couple of spots and Christian had to carry me through to the end. And we were able to be successful at finishing the match."
Angle continued, "The problem was, I had a match coming up like a half-hour later. I started over with my match with Edge and he was telling me the spots that he wanted to do and he'd say 'are you good with that?' and I'd say 'okay yeah, I'm good with that' and I'd say again 'I'm not good with that, you need to repeat it.'"
His first match of the night was almost 9 minutes. Plus, there were no doctors available backstage, leading to him waiting for the show to end before receiving medical attention.
His second match against Shane McMahon, which was a street fight ended with both the wrestlers getting career-threatening injuries.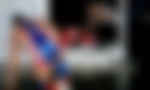 What changed in WWE since then?
A concussion is a brain injury where the brain touches the skull because of any significantly high impact. This causes some bruises to the brain which results in brain damage if left untreated in the long run.
"Things were a lot different back in the early 2000s. That's before the wellness policy, the drug policy. There are a lot of things that they didn't have established at that point. You were able to continue regardless because we didn't have a doctor there," Angle concluded in the same interview.
ADVERTISEMENT
Article continues below this ad
The early 2000s were undoubtedly pretty wild inside the wrestling business. Wrestlers would casually deliver/receive chair shots on the head just to get a big pop from the audience. Additionally, there was no wellness policy that stopped wrestlers from delivering high-risk head damages.
Chris Benoit unfortunate passing in 2007 opened WWE's eyes to lay more emphasis on the scientific side of things. And since then, bleeding and direct shots or maneuvers which cause significant damage are banned in WWE.
Now, with a strict suspension policy and regular drug tests, the company has surely earned a reputation for having a good and attentive medical staff.
ADVERTISEMENT
Article continues below this ad