"I Hope He's Not Dead"- Undertaker Opens up About His Brutal Showdown with Mick Foley
Published 06/23/2020, 12:52 PM EDT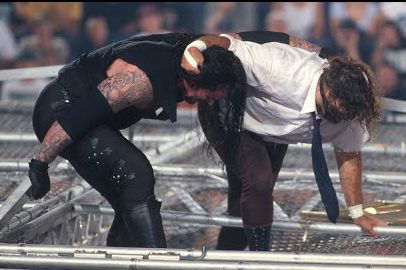 ---
---
Mark Calaway, the man behind WWE Superstar The Undertaker recently sat down with his family and Mario Lopez in a tell-all interview. He spoke about his fight with Mick Foley, their Hell in a Cell match in 1998.
ADVERTISEMENT
Article continues below this ad
Lopez asked The Deadman about the time when he threw Mankind (Mick Foley) over the top of the steel cage. "He's dead. That's the first thought…I hope he's not dead. It was actually really bizarre because it seemed like it took him forever to hit that table. I mean, it was in slow motion."
The Undertaker almost killed Mankind
ADVERTISEMENT
Article continues below this ad
The Undertaker had taken Foley and thrown him off the top of the cage, straight into the Spanish announcers' table. "I saw it all in slow motion, it seemed like it took him forever to move, that was scary."
Mankind was taken away on a stretcher, but got back on his way to the hospital, to enter the match again. Foley came in with a dislocated shoulder, climbed the cage and faced The Undertaker again.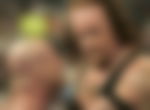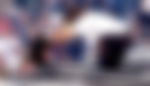 Mark commented on this and stated that the more gruesome injury happened when they were on top of the cage the second time. "What most people don't realize is that was far easier than the one where he went through the cell from the top.
"That was really scary, I didn't think he'd get up from that." The Undertaker 'Chokeslammed' Mankind on the top of the ring, which immediately gave way.
ADVERTISEMENT
Article continues below this ad
The steel beams had snapped and broken apart, and Mankind plunged to the ring from ten feet up, landing square on his back, making it through the floor of the ring.
"That was the one where his tooth went through his lip and ended up in his nose. That's a tough tough man, he's in a league of his own in terms of being able to absorb punishment," Mark said, speaking about his friend and fellow wrestler Mick Foley.
This story came with the expected reactions from Lopez and Mark's children, letting them know that WWE in the 90s was truly hardcore.
ADVERTISEMENT
Article continues below this ad