"I Should've Retired Sooner" – Mick Foley Opens up About The Undertaker and His Career
Published 05/25/2020, 4:21 PM EDT
WWE Hall of Famer Mick Foley sat down and spoke about his life, peers, and career. The former Superstar had a lot of thoughts about Mark Calaway (The Undertaker) ahead of 'The Last Ride' documentary.
ADVERTISEMENT
Article continues below this ad
Mick Foley surprised by 'The Last Ride'
Mick was approached to do an interview for the documentary series first in 2017. He was careful about the answers he gave, so as to preserve the mystery around The Undertaker. The character, shrouded in mystery, deserved to remain so. However, what Foley didn't realize was that the documentary had already gone past Kayfabe. 
ADVERTISEMENT
Article continues below this ad
'Undertaker – The Last Ride' is a documentary about Mark Calaway and his career as a performer. It offers a unique look into the life and image of the man behind The Undertaker, something that had never been done before. Calaway appeared in very few tell-all interviews throughout his career. This documentary series, for the first time, presented him as a person completely separate from his character.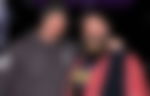 "I guessed that a decision was made to continue to protect the character"
ADVERTISEMENT
Article continues below this ad
Foley was concerned that showing the man behind the mythical character would tarnish its image. The Undertaker is a force of nature, an inhuman entity that vanquishes its foes. Talking about Mark, and not The Undertaker, would humanize the character, which would ruin its uniqueness and appeal. However, Foley says watching the documentary relieved him. The character is so separate from Mark as a person, that 'The Undertaker' as a character still retains its edge.
"I realized that I need not be concerned that in pulling back the curtain it was, in some way, creating even more mystique around the character because you could see how different the character was from the actual person", Foley said, relieved.
ADVERTISEMENT
Article continues below this ad
The Mortality of Superstars
"Success is subjective in our business," Foley said, referring to superstars who peak after their physical primes. A large running theme of 'The Last Ride' is Mark's retirement. Since most WWE Superstars face their prime late into their life, hanging up their boots becomes more difficult. Pro Wrestling is so different from other sports since it's not only physical conditioning but also charisma, mental toughness and psychological ability, which makes the performers Superstars. Recently, with the slump in ratings, more and more retired superstars are being summoned. Carrying with them their years of experience and expertise, old superstars add a lot to the show. Hence, many retired greats (Goldberg, Edge, etc.) have all answered the call from Vince McMahon to uplift the WWE.