"I Thought He Was Dead" – WWE Hall of Famer Kurt Angle Recalls Horrific Aftermath of Brock Lesnar's Botched Shooting Star Press
Published 02/09/2021, 9:05 AM EST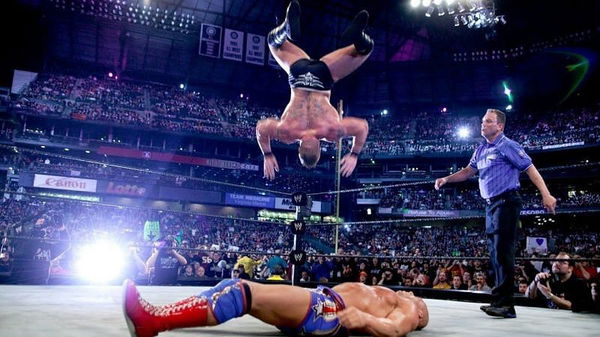 ---
---
Former Olympic gold medalist, Kurt Angle, revisited the horrors of the WrestleMania 19 clash with Brock Lesnar. The WWE Hall of Famer recounted the incident which sent shivers down his spine while Lesnar lay motionless a few feet away from him.
ADVERTISEMENT
Article continues below this ad
On a very recent episode of The Kurt Angle Show, he came forth to describe the incident from his perspective. The Shooting Star Press was a disaster on the eve of WrestleMania XIX and left a significant impact upon Kurt.
Kurt mentioned the slight hesitation Brock Lesnar faced moments before the botch. According to him, it was this dilemma that caused the incident. The outcome was grave enough for Kurt to think Brock would be a dead man in the ring.
ADVERTISEMENT
Article continues below this ad
"When he went to jump, he hesitated and then just said 'aw, f*** it, I'm just going to go,' I think that hesitation cost him to fall off balance forward so he couldn't get a full rotation backward when he went to flip. When he landed, I thought he was dead. I thought he broke his neck, I thought he was dead."
Going with the spirit of the game, Kurt went forth to grab Brock and edge towards winning the match. However, he himself recalls how badly he wanted him to respond and stay in the bout a little longer.
"He wasn't responding, I said 'Brock, are you okay?' He wasn't saying anything, I went over and covered him and told him 'You gotta kick [out], you gotta kick,' because I did not want to hold that title for another day."
However, Angle, being the veteran wrestler, made sure Lesnar was alright and got proper medical attention.
Kurt Angle took care of a very traumatized Brock Lesnar
Lesnar was rattled to his core with the fall. Kurt recalls how he had to go over and hug him to make things better between the two. He was even considerate enough to talk Lesnar into getting proper medical help when he was being stubborn.
ADVERTISEMENT
Article continues below this ad
"Afterward, he was so disheveled. He was confused and didn't know where he was. He was supposed to come over and pick me up and hug me, we were supposed to become friends and he wasn't coming over [to do that]. I told the ref to tell him to come over and he wasn't coming, so I walked to him and hugged him.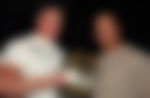 "We got in the back and he had an ambulance waiting for him to take him to the hospital and he wouldn't go. He was not going to go, he was being stubborn, and he was pretty pissed off. I had to talk him into getting in the ambulance and eventually he did," concluded Angle.
ADVERTISEMENT
Article continues below this ad
The accident could've been fatal for Brock Lesnar. Luckily, he escaped the trap of death. But the impact was enough for Lesnar to quit doing aerial moves from thereon.