"I Thought We are Never Going to Hire That Guy"- Vince McMahon Freaked Out When he First Watched Mick Foley
Published 06/01/2021, 9:00 AM EDT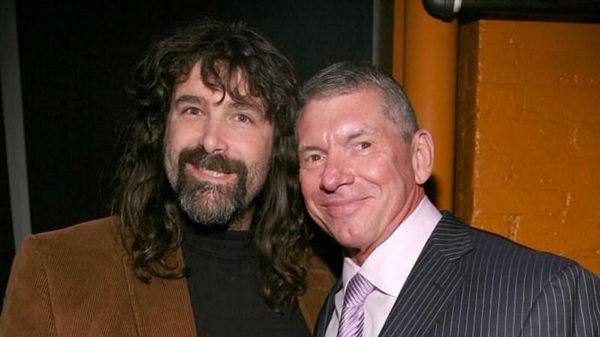 ---
---
Mick Foley had a tremendous impact on WWE's product in the 90s. The Hardcore Legend introduced a style of wrestling to fans that became the highlight of the Attitude Era. However, WWE CEO Vince McMahon wasn't Foley's biggest fan in the beginning.
ADVERTISEMENT
Article continues below this ad
Vince McMahon did not want Mick Foley in WWE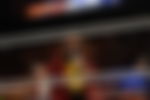 Prior to wrestling in WWE, Foley competed all across the world in crazy matches. Certain matches had death-defying stipulations which actually took years off of Foley's career.
ADVERTISEMENT
Article continues below this ad
Before being thrown off the cell by Undertaker, he had already competed in Exploding Barbed Wire deathmatches and No Ropes Barbed Wire Scramble Bunkhouse Deathmatches with Terry Funk.
These matches gave Vince McMahon the wrong idea about Foley, which he revealed during A&E's Biography: Mick Foley.
"I thought it was kind of degrading to our product." McMahon continued, "I thought he didn't have any talent. I thought it was déclassé. Mick always had that connection with the audience and I never really saw before he came here. I thought, 'Boy, We're never going to hire that guy,' but he did. He had that connection and very few people have that.
"Everyone was freaked out, including me. This was too far. This was like, wait a minute. You've set yourself on fire in Japan or whatever he did, but this was moreover on my watch." (H/T Fightful Wrestling)
Watch This Story: WWE Records that Can Never be Broken
Foley's biggest risks
In a career full of insane stunts and career-shortening injuries, Mick Foley's biggest risk was running Monday Night Raw and unveiling the WWE Universal Champion. The look on his face when he laid eyes upon the ugly belt will forever haunt the Brooklyn fans' memories.
Jokes apart, Foley's entire career was based on his ability to put his body on the line to entertain fans. The man lost his ear in a match in Germany against Vader, which was probably the most gruesome injury in wrestling history. Once he joined WWE, the antics continued.
ADVERTISEMENT
Article continues below this ad
Foley became a Hell in a Cell legend with two brutal wars against Undertaker and Triple H. In 1998, Taker and Foley tore the house down at King of the Ring, which saw the Deadman toss Foley off the top of the cell. He then chokeslammed the man through the roof of the cell and ended things with the Tombstone.
Even during his match with Triple H in 2000, Foley crashed through the cell and even took a shot to the skull with a flaming 2×4. In his rivalry with Edge, the Rated-R Superstar speared Foley through a flaming table at WrestleMania 22. The aforementioned moments perfectly capture why Foley is WWE's true hardcore legend.
ADVERTISEMENT
Article continues below this ad