"I Was Hurting People" – Kurt Angle Confesses His Ankle Lock Was Dangerous to Fellow WWE Superstars
Published 06/28/2021, 8:45 AM EDT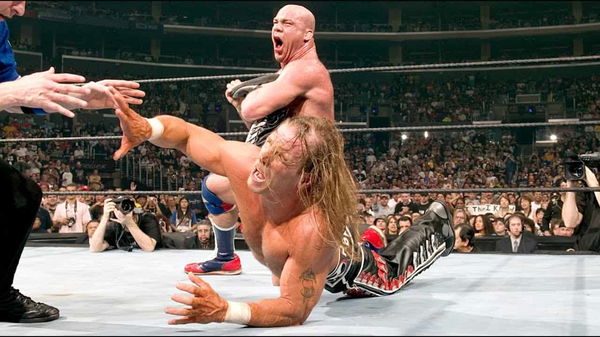 ---
---
Many fans might not know this, but WWE Hall of Famer Kurt Angle picked up his iconic Ankle Lock from UFC Hall of Famer and former WWE Superstar Ken Shamrock. Shamrock popularized the leglock technique before Angle.
ADVERTISEMENT
Article continues below this ad
In the latest episode of The Kurt Angle show, Ken Shamrock was the guest. The first thing Shamrock, Angle, and co-host Conrad Thompson discussed was the 'theft' of the Ankle Lock.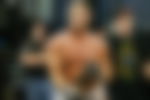 ADVERTISEMENT
Article continues below this ad
Shamrock started off by saying he had answered the question innumerable times. While doing so, he loved to poke fun at the people and the Olympian.
"I give people a hard time whenever they ask me that question," 'The World's Most Dangerous Man' said. "They say, 'Oh, did you see Kurt put that Ankle lock on? Does it piss you off?' I was like, 'Man; it's an honor.' I've got to poke you a little bit. Saying, 'Tell him to do it right at least.' It's like, 'Honestly; he is doing it right, I'm just poking at him, man.'" 
Watch this story – From Macho King to King Booker: The Greatest Kings of the Ring in WWE History!
Kurt Angle said he hurt people with the lock
The Olympian also spoke about the differences between his and Shamrock's Locks. "When I do the Ankle Lock, I put my hands on the top of the toes instead of the sides because I was hurting people. It's the real deal." he joked.
Shamrock also laughed and agreed with Angle. Even the UFC Hall of Famer could not apply the lock right. Whenever it is applied right, it is bound to legitimately hurt people.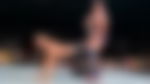 "That's why when you (Angle) said that and someone would ask, 'Well, what's the right way?'" Shamrock added. "I can't really say it because I know what you were going through, because I went through the same thing. It's like you can't do it right (laughs). If you put it on right, they get hurt."
ADVERTISEMENT
Article continues below this ad
Both legends laughed at their Ankle Locks and buried the hatchet once and for all. Angle thanked Shamrock for letting him use the maneuver throughout his career. He "wanted something legitimate. There is nothing more legitimate than Ken Shamrock and the Ankle Lock." 
Let us know your thoughts on the discourse between the two legends in the comments below.
ADVERTISEMENT
Article continues below this ad