"I Was Like Shaking in My Chair" – 'Young Rock' Star Bradley Constant Details the Thrilling Experience of Working With Dwayne Johnson
Published 02/19/2021, 6:30 AM EST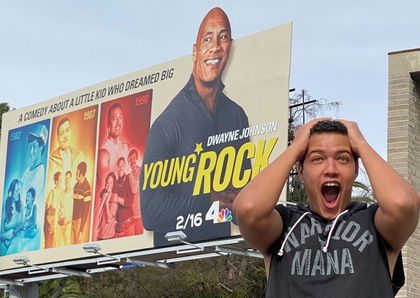 ---
---
Dwayne "The Rock" Johnson's autobiographical TV series premiered a few days back. 22-year-old Bradley Constant plays the 15-year-old Johnson on the NBC series, and the job is no less than a challenge.
ADVERTISEMENT
Article continues below this ad
Playing a character on-screen is no child's play, especially when the person is the megastar of Hollywood and WWE. However, Constant got a huge amount of support from Johnson himself.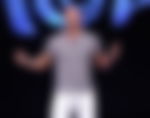 While speaking to WWE's The Bump, Constant revealed what went on behind the scenes. "It was an open book (if) I had any questions. Of course, at first, I was really nervous. I was like 'What's up Rock?' And I was like shaking in my chair.
ADVERTISEMENT
Article continues below this ad
"Once we started chatting, it was just like talking person to person," the 'reel-life Rock' said. "He talks to you like anybody else, and he's super humble as well. It's just easy conversation."
While channeling Dwayne Johnson, Constant necessarily did not mimic the person. During that point in Johnson's life, he had lots of struggles at home and personal life.
"Finding those normal, relatable qualities as just any other normal teenager going through those circumstances, kind of help me ground into that and it took away most of the pressure."
Johnson also never pressured Constant into anything. They both found common ground, and the character transitioned into the screen thereon.
Bradley Constant was shocked when selected to play Dwayne "The Rock" Johnson
Bradley had just come from his shift at a grocery store when he heard about his selection. He became silent and immediately called his family.
"I closed my eyes and just did not know what to say." Constant said, "That was the most amazing situation because my family, my grandparents, and my brothers had been with me since I decided to pursue something like this 10 years ago."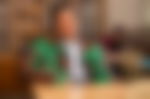 ADVERTISEMENT
Article continues below this ad
Although Constant never got to see Rock inside the squared circle, he's followed Johnson's Hollywood career extensively. The 22-year-old from Alabama was nervous to play the legend's 15-year-old version; however, his nervousness dissipated when he sat down with Johnson.
"He never placed any crazy expectations on me. He really just kind of tempered my nervousness," Constant explained. "He's just so genuine and so down-to-earth. He talks to you person to person, like anyone … He really just reminded me to be myself and have fun. I think that's one of the best things he told me."
Since his premiere, Young Rock garnered a whopping 5 million in viewership. As days go by, we'll see more of Constant on our screen.
ADVERTISEMENT
Article continues below this ad