"I Was Never Expecting to Be Back on Screen with My Dad" – Charlotte Flair Opens up on the Emotional Segment with Ric Flair on WWE Raw
Published 03/02/2021, 7:50 AM EST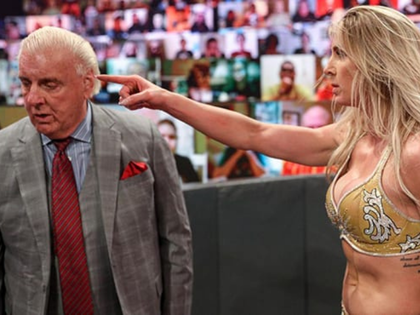 ---
---
Charlotte Flair and Ric Flair portrayed a wide range of emotions – anger, passion, pride – in a heated segment on the February 22 episode of Monday Night Raw.
ADVERTISEMENT
Article continues below this ad
During an interview, Charlotte Flair opened up about the segment. She explained how she felt while sharing that moment with her father.
"I loved the back-and-forth because originally it wasn't supposed to be that way. My dad comes from an era where he can cut a promo and not have to memorize things. I'm so in the zone right now where for the first time in my career I'm comfortable to ad lib out there."
ADVERTISEMENT
Article continues below this ad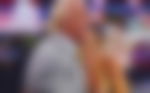 In the segment, The Queen asked the Legendary Nature Boy to go home and let her build her name while protecting the family legacy. She wanted her father to acknowledge that his time to shine in the ring was over. Now, it's her time to own the ring, and he needs to take a step back.
Charlotte Flair explained how she managed to bring out all the emotions while doing the segment.
"I'm an emotional person as it is, so trying to channel certain things that have frustrated me was very easy. I was never expecting to be back on screen with my dad in 2021 and have him across the ring from me [supporting someone else]. So I was able to bring out certain emotions."
Charlotte Flair wanted the romance to end
This segment directly resulted from the on-screen relationship between Ric Flair and Lacey Evans. Ever since the dawn of this relationship, felt humiliated and ignored. For Charlotte, a relationship between her father and her co-worker was beyond her wildest imagination.
Things took a turn for the worse when Evans announced her pregnancy, and Ric Flair rejoiced like it was his child.
While Lacey Evans and Ric Flair found it funny, The Queen found it to be a disgraceful moment for the Flair household.
The current status of the storyline between Ric Flair and Lacey Evans
Currently, it seems that WWE has scrapped the storyline between Ric Flair and Lacey Evans. The Nature Boy explained that it was his ongoing health issues that led to the cancellation of the segment.
"I did have some ideas. The problem was, they wouldn't want me to get in the ring because it's so hard to get me cleared because of my health issues. Even though I have been cleared by my doctors, I just don't think that they are prepared to let me get in the ring."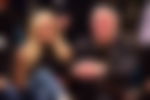 Otherwise, It's possible WWE did not want to move forward with the storyline as almost everyone from the WWE Universe found it nothing short of disturbing.
What did you think of the storyline between Lacey Evans and Ric Flair? Let us know in the comments below.
ADVERTISEMENT
Article continues below this ad
ADVERTISEMENT
Article continues below this ad