"I'll Cherish Them Forever" – Kurt Angle Calls a Segment With Stone Cold and Vince McMahon One of His Favorite Moments From WWE
Published 07/08/2021, 11:37 AM EDT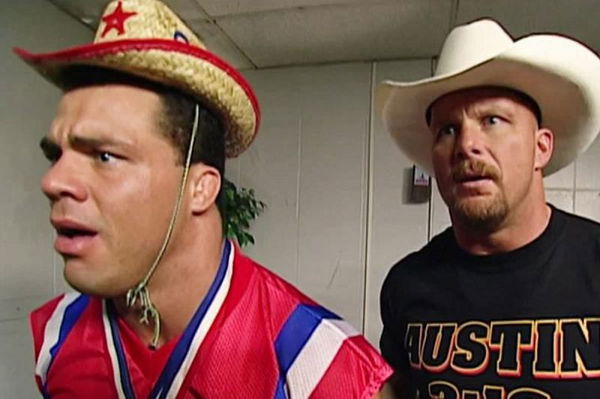 ---
---
Kurt Angle had a memorable time in WWE, both inside the ring and backstage. Recently, the former WWE champion talked about the fondest memory of his WWE run.
ADVERTISEMENT
Article continues below this ad
Back in those days when kayfabe ran deep within the superstars and the wrestling business, many superstars used to stick to the initial gimmicks they were given when joining the company.
But Kurt Angle's character developed big time, from debuting as the American Olympic Hero and nagging every superstar for not being a 'real athlete' to having goofy backstage segments with wrestlers like 'Stone Cold' Steve Austin and Brock Lesnar.
ADVERTISEMENT
Article continues below this ad
On a recent episode of his podcast, The Kurt Angle Show, the 'Wrestling Machine' took us down his memory lane with his hilarious backstage segment with the 'Texas Rattlesnake', which involved wearing a cowboy hat he further added that it is one of his "fondest" memories in the company.
"I've seen it so many times but it's funny every single time I see it. Steve Austin was in the San Antonio International Airport and he saw this little tiny cowboy hat in the gift shop."
"He said, 'Damn, I've gotta get that for Kurt. I'm gonna get two bigger cowboy hats for me and Vince and make Kurt look like an idiot.' That's what he told me, and he brought them to TV and said, 'I have this idea' and he pitched it to Vince. Vince loved it. That was it. We did the cowboy hat segments and the rest is history," Angle concluded.
Watch this story: From Edge to Brock Lesnar: WWE Superstars Who Wrecked Luxury Cars!
WWE Hall of Famer Kurt Angle still keeps the cowboy hat
In the same interview, Angle said he still keeps the hat with himself. In fact, he was seen wearing the same cowboy hat from that segment, saying it keeps the memories fresh.
"This is one of my fondest memories in WWE, including the wrestling. These moments are what makes it last forever. This and the mail truck incident were my two favorite moments. I'll never forget them and cherish them forever."
"The wrestling matches mean just as much, but when you're doing character development and do things like this, fans remember the moments most of all." Angle concluded in the interview.
Last year, Angle took to Instagram sharing a video of him wearing the same cowboy hat, talking about becoming a real-life cowboy. Keeping the memory of the cowboy hat alive.
ADVERTISEMENT
Article continues below this ad
Like the hat segment, Angle had multiple hilarious segments during his WWE tenure. Another memory he cherishes is the milk bath. For those unaware, Angle brought a milk truck inside the arena and sprayed milk on The Alliance (a WWE faction).
ADVERTISEMENT
Article continues below this ad