The Undertaker is a legendary wrestler who has been the icon of fear and charisma in the wrestling industry. Everyone knows his iconic entrance and the cold persona which the Phenom has carried throughout his career. Every wrestler dreams of having a match with the Deadman and cherishes the memory if they ever get to do so. Braun Strowman and Roman Reigns are two such wrestlers who have had the chance to make some memories in the wrestling ring with the Phenom.
Reigns and Strowman have come along way since their 2018 tag team match with The Undertaker at the legendary Madison Square Garden. Strowman has become the WWE Universal Champion and Reigns got the honor of defeating the Deadman at WrestleMania. Yet both of them still seem to remember and fondly cherish the match as both Roman and Braun posted about it on their Twitter page earlier today. Their tweets:
Main event in #MSG @TheGarden with @undertaker and Uce @WWERomanReigns.
I'll never forget the words he said to me that night. #TheLastRide https://t.co/I1QRjnhkEo

— Braun Strowman (@BraunStrowman) May 24, 2020
Once in a lifetime opportunity right there. #MainEvent #MSG #TheLastRide https://t.co/1EaFANlRee

— Roman Reigns (@WWERomanReigns) May 24, 2020
Both men highlighted the importance of this match to them and the video which Strowman posted showed the Deadman shaking hands with Reigns. This handshake would later propel Roman's career to the stratosphere as he became champion shortly after it.
Braun Strowman VS The Undertaker in the future?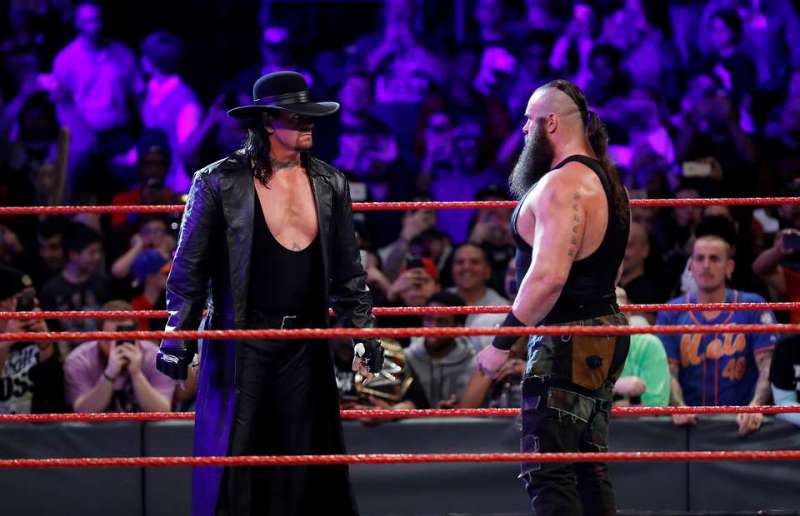 The Undertaker is a legend, but the man is getting old. His match quality and stamina are not the same as they used to be. He is approaching retirement, which is why he seems to follow the tradition which all old wrestlers do. That tradition is to lose to newer younger guys to put them over.
The Phenom respects the unwritten rules of the business. This is the reason he let Roman Reigns pin him at WrestleMania 33. However, when fans think about new hot talent, one name always comes to mind. That name is the Monster Among Men, Braun Strowman.
Braun has been given a mega-push by the company. He defeated both Goldberg and the new Bray Wyatt, two of the hottest WWE names right now. He has shown no signs of stopping, and the plans are to give him a long reign.
Seeing this interest and investment, it would be natural for the WWE to have him go against the Deadman. Both of them have had a history since the Wyatt family days to justify it. An added benefit to the build will be that the Undertaker will complete his 30 years with the company at Survivor Series. The WWE respects him and having him fight against Braun will be the perfect 'handing over the torch' moment.
The fans can only wait for Survivor Series to know what the WWE has planned for the future of Braun Strowman and the Phenom.