"I'll Smash You"- Boxing Legend Tyson Fury Ridicules Drew McIntyre and Braun Strowman in a Recent Call Out
Published 04/28/2021, 11:52 PM EDT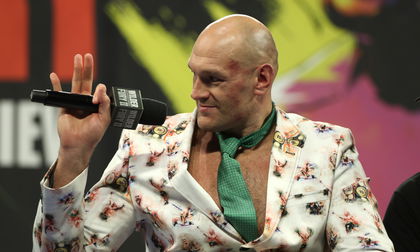 ---
---
One of the biggest sporting crossovers in recent memory was Tyson Fury walking into the WWE. He showed up and stood up to Braun Strowman, before knocking him out cold at Crown Jewel 2019. But now, Fury has Drew McIntyre in his sights.
ADVERTISEMENT
Article continues below this ad
Tyson Fury belittles Drew McIntyre and Braun Strowman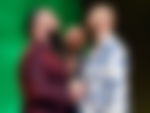 Former WWE Champion and now #1 contender Drew McIntyre has frequently talked about facing Tyson Fury. Fury vs McIntyre is one of those crossover dream matches you never thought you'd see, but now, you can't wait for it to happen. McIntyre has openly and frequently called out Fury.
ADVERTISEMENT
Article continues below this ad
However, McIntyre went too far by claiming Fury is 'stalking' him and drew the ire of the boxing legend. On his Instagram story, Fury went on a rant where he called McIntyre out, along with UFC fighter Francis Ngannou and fellow British boxer Anthony Joshua.
"This is a special message to my long-haired boyfriend, Drew McIntyre, who can't stop thinking about me, and can't stop talking about me. Drew, you wanna go like it, I'll give it to you too. Anytime, any place, anywhere. I'm in Las Vegas at the moment, wanna come and fight about or you wanna come and talk about a fight. Hit me up, baby."
Fury even claimed he'd beat Drew faster than the man he faces at WrestleMania Backlash, Braun Strowman.
"I'll smash you like I smashed your buddy Braun Strowman. But you'll go down even quicker because you're a lot smaller. Grab your hair, smash your face off the floor, and it's all over Drew. Let me know when you want a piece of the furious one."
McIntyre ridicules the boxing legend
In a recent interview with The Big Issue, two-time WWE Champion Drew McIntyre talked about Tyson Fury, and how he thinks Fury is stalking him.
ADVERTISEMENT
Article continues below this ad
"Tyson Fury is stalking me. It's the most bizarre sentence. I'd wake up every day and I've got another message on social media from Tyson Fury. Maybe I should answer him.
"When I'm able to win back my WWE title, we'll fly back home, get an open-top bus at the top of Scotland. I'm going to make my way down Scotland, [and have a] big celebration all the way down into England. Get to Fury's house, set ourselves up a little match. It's going to happen. The thing is, he has a genuine love for wrestling and he's such an entertainer, he gets it."
This is a match both Fury and McIntyre want, and the fans desperately want to see. What are you waiting for, Vince? Book it!
ADVERTISEMENT
Article continues below this ad