"I'm Admitting I Stole That Spot" – WWE Hall of Famer Mick Foley Reveals the Truth About His WrestleMania 22 Match With Edge
Published 04/01/2021, 11:55 AM EDT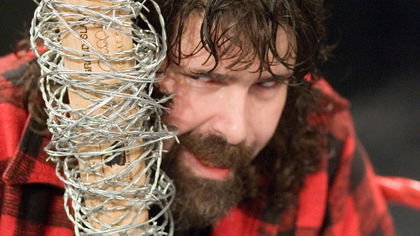 ---
---
WrestleMania 22 is notorious for one of the last 'true' hardcore matches of the Ruthless Aggression era, and the following PG Era.WWE Hall of Famers Edge and Mick Foley faced off against each other in the event.
ADVERTISEMENT
Article continues below this ad
The match was so intense that Edge went to shock following his victory. Mick Foley was speared into a burning table. In a recent interview with WWE's The Bump, Mick Foley confirmed a long withstanding rumor about the match.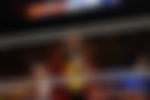 In the WM 22 match, Mick Foley fought with barbed wire tied around his waster. Hence, when Edge speared him, the "Rated-R Superstar" got hurt more. Foley also used the wire as a whip.
ADVERTISEMENT
Article continues below this ad
"I'm admitting I stole that spot from Bret Hart and Bill Goldberg," Foley admitted. "Jake Roberts told me in 1992 that a wise man knows where to steal his material. WCW had done a great spot–we call it a spot–where Goldberg had speared Bret, but Bret had a 25-pound weight taped to his midsection."
"So [I thought] it worked with a 25-pound weight, it would work with barbed wire as well, so obviously I wasn't comfortable those first few moments, but I guess I was luring Edge into the spear."
In 1999, during an in-ring confrontation with Goldberg on WCW Nitro, Bret Hart wore a steel plate under his jersey. In the heat of the argument, Goldberg speared Hart and collided head first with the steel plate. The moment is regarded as one of the best moments in Nitro history.
Mick Foley recalls the WrestleMania spot and its effects on Edge
Hardcore fans always prepare for the worst. When Mick Foley revealed the concealed barbwire, the crowd lost its mind. The incident was reminiscent of Mick Foley's glorious past as a hardcore legend.
ADVERTISEMENT
Article continues below this ad
"That was a great reaction when he hit me with the spear," Foley recalled the night. "He was the one who came out the worse for wear. Then the reveal is, 'Yeah, I had barbed wire around my midsection.' That's using the old bean right there. That's what happens when you're a New York Times number one best-selling author!"
Although Edge had the last laugh in the match, Foley solidified his position as a legend. The match not only acted as a reminder of Foley's prowess over the Hardcore genre, but also is seen as a "rite of passage" from one legend to another.
ADVERTISEMENT
Article continues below this ad