"I'm Not Going for the Old Guy"- WWE Legend Booker T Predicts a Quick Finish for Drew McIntyre Against Goldberg
Published 01/25/2021, 12:51 PM EST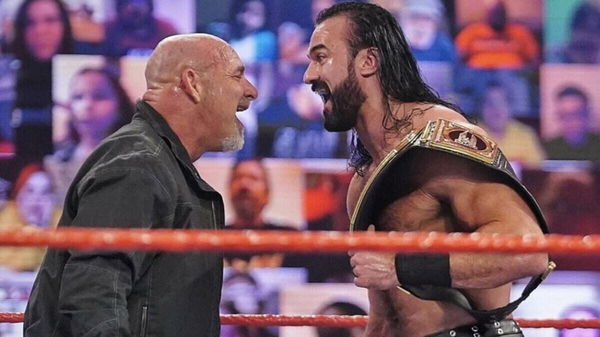 ---
---
WWE's reliance on their legends is quite an annoying concept. The talent possessed by the young superstars is second to none, yet WWE insist on bringing back their former icons. This might be a bid to boost ratings, but it is annoying other Hall of Fame inductees. On the recent episode of WWE's The Bump, former WCW Champion Booker T commented on Goldberg's chances against Drew McIntyre.
ADVERTISEMENT
Article continues below this ad
Booker T takes a shot at Goldberg
ADVERTISEMENT
Article continues below this ad
Goldberg returned on the first Raw of 2020 and challenged Drew McIntyre to a match at the Royal Rumble. The hunger for more gold brings the former Universal Champion back to the WWE and back on our screens.
Booker T had an interesting take on his former colleague's return. "You know, Goldberg is pushing it, man.Everybody loves the nostalgia, but this is a young man's game. Drew McIntyre, he's my guy. I said before that Drew McIntyre is going to be the champion in this business. I always pushed him over to the side and whispered in his ear, 'Hey, man, do this. Change that. You're on the right track.'"
The former King of the Ring praises Drew McIntyre
ADVERTISEMENT
Article continues below this ad
Booker was quick to praise the current WWE Champion, calling him the favourite to win at the Rumble. The sad reality about the match at the Royal Rumble is that WWE might pull the rug under Drew and put the belt on Goldberg. He has already racked up two WrestleMania matches where he's defended the title.
"And now, you go back to when he first came in to where and how he looks now. He's a grown man now. He came in as a kid. Goldberg could be barking up the wrong tree. I'm not going for the old guy. Once you get past that number, bruh, you might want to rethink things. So, we're gonna see how this plays out. But if I had money, I'd put my money on Drew McIntyre. It's going to be quick."
ADVERTISEMENT
Article continues below this ad
This match at the Royal Rumble could be fantastic, or can be absolutely atrocious, and it all depends upon the outcome. A Goldberg match in 2020 should not last over five minutes. Few Spears and a couple of Claymore's should be enough to wrap up the match and for Drew to retain the title.