"I'm Not Scared of You"- Kurt Angle Reveals Shocking Confrontation with Shawn Michaels Prior to WrestleMania 21
Published 03/10/2021, 9:15 AM EST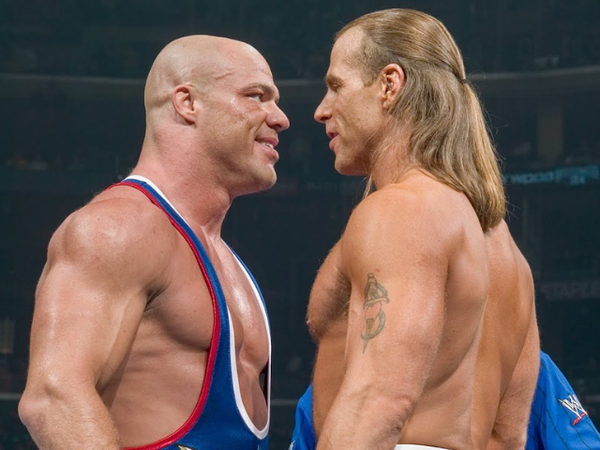 ---
---
Kurt Angle revealed a moment he shared with Shawn Michaels ahead of their fight at WrestleMania 21 while in conversation with Conrad Thompson on The Kurt Angle Show.
ADVERTISEMENT
Article continues below this ad
He revealed Michaels approached him out of the blue days before and told him he's not afraid of Angle. The entire situation caught Kurt Angle off-guard since he had done nothing to provoke Michaels.
"You know what? I was in shock. The last time I really spoke to Shawn before that was Survivor Series when I told him 'hey you're pretty good.'
ADVERTISEMENT
Article continues below this ad
"He was like, 'Oh, thanks.' I didn't know Shawn.. when I started, he was out with injury and he didn't come back until a couple of years after.
"So the next time I see him, he knows he's wrestling me. He decides to come up and I guess he just wanted to tell me he's not afraid of me.
"He said, 'Listen, I'm not scared of you. If it goes down, it goes down. I'm not afraid to fight you.' And I was like, '…okay'."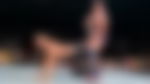 Kurt Angle didn't know exactly why Michaels did what he did, but he provided an explanation that made sense to him. "I think I had a little bit of a reputation of being a little stiff in the ring. So I think that might have added to it.
"So he was just telling me if I take advantage of him, he's gonna fight back. You know, I respected that. I mean, I was shocked, I've been professional up until then.
"You know, I was in the company for five years and never did anybody wrong. So, I'm not sure why he said it. It was shocking. It was the shock factor.. it was really crazy he said this to me, It blew my mind."
Kurt Angle revealed hurting another wrestler during a match
Conrad Thompson opposed Angle and questioned about the previous times he hurt somebody inside the ring. In fact, Thompson was shocked considering how he had never heard of a moment when Angle purposely hurt somebody.
Kurt Angle opened up about the one time he hurt another wrestler inside the ring, and how that made him feel.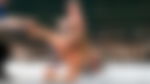 "Just Bob Holly when I moonsaulted for the first time. I went toward him and my shin hit his arm and broke his arm, I felt so bad for him.
"I went to the hospital with him and I felt like I needed to spend the night with his guy. That was the only time I injured somebody and it was my fault."
ADVERTISEMENT
Article continues below this ad
Shawn Michaels and Kurt Angle gave the WWE Universe one of the greatest matches in the history of WrestleMania. It started with a mere slap and turned into a display of wrestling moves, clever tactics, and overall an entertaining performance.
Kurt Angle secured the victory after defeating Shawn Michaels via submission.
ADVERTISEMENT
Article continues below this ad