"I'm Not Sure Why"- Kurt Angle Reflects on the Storyline With His Illegitimate Son Jason Jordan
Published 02/24/2021, 8:40 AM EST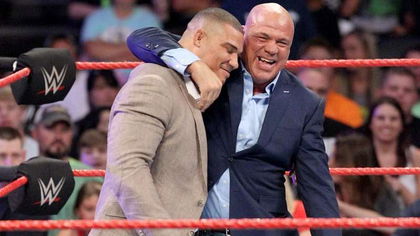 ---
---
In 2017, Kurt Angle became entangled in a complex storyline involving Jason Jordan. It revealed that the former NXT Tag Team Champion was the illegitimate son of the Olympian.
ADVERTISEMENT
Article continues below this ad
Fans ripped the storyline to shreds and the WWE Universe rejected Jason Jordan. 4 years later, Kurt Angle reflects on the storyline.
Kurt Angle opens up on the Jason Jordan storyline
ADVERTISEMENT
Article continues below this ad
On July 17th, 2017, Raw General Manager Kurt Angle walked to the ring and announced that he fathered a child in college. This illegitimate son turned out to be one-half of American Alpha, Jason Jordan.
Instead of appreciating Jordan getting the chance to rise, fans saw past the trashy storyline and nepotism, turning on Jordan immediately.
On the Kurt Angle Show, the Hall of Famer opened up about the complex storyline and how it progressed. "Well, I was excited because I wanted to pair up with Jason and Chad when they were tag team partners.
"And I wanted to wrestle, and I wanted to be the world champion and have them be the tag team champions just like Team Angle, and I thought it made a lot of sense. And they decided that I was going to have an illegitimate son.
"They decided to pick Jason over Chad. And, you know, I think I'm not sure why. But you know, it might have been a politically correct move. But, you know, I was happy.
"I was excited about it because Jason is a great talent. And he was improving every week. His chops were improving. His work was improving. He was getting a lot better. He was on his way to Main Event status until he hurt his neck."
Jason Jordan's neck injury led to Kurt Angle's retirement angle being scrapped, and Baron Corbin became his opponent.
Was Kurt Angle's retirement a disappointment?
Despite Angle's kind words for Baron Corbin on his podcast, Angle's retirement match at WrestleMania was extremely disappointing.
First up, Corbin vs Angle was the 14th match on a 16-match card. They had to follow some incredible matches like Brock Lesnar vs Seth Rollins, Kofi Kingston vs Daniel Bryan, and Batista vs Triple H.
ADVERTISEMENT
Article continues below this ad
Fans conserved energy for the Women's Triple Threat main event and Angle's retirement match became a bathroom break.
Second, and most importantly, no one apart from Vince McMahon wanted Baron Corbin in that role. Yes, he is a great heel with a good look, but he was way too unpopular for that role.
Fans clamored for John Cena to be Angle's last opponent. Instead, Corbin retired Angle in the most disappointing farewell WWE could've given to one of their greatest stars.
ADVERTISEMENT
Article continues below this ad