Kurt Angle Taunts Former Rivals Sting and Jeff Jarrett With Iconic Picture
Published 11/08/2021, 3:09 AM EST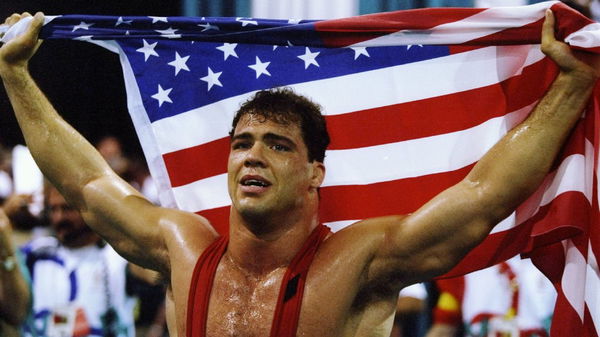 ---
---
While Kurt Angle might be famous for his stint in WWE, people forget that TNA was where he wrestled some of his best matches. The Hall Of Famer's run in TNA outlasted his WWE one. In TNA, he's had quite a few dream matches with legends such as Sting and AJ Styles.
ADVERTISEMENT
Article continues below this ad
Kurt Angle took to his Instagram to recall that legendary 27-minute match he wrestled back in 2009 at Sacrifice.
ADVERTISEMENT
Article continues below this ad
Kurt Angle faced Jeff Jarrett, Mick Foley (C), and Sting for the TNA World Heavyweight Championship in the main event. Wrestling fans have called this match 'one of the best' in TNA's history.
The Olympic Gold Medalist posted a picture of a particular moment that took place during the match. It was when he put both Sting and Jeff Jarrett in a double ankle lock.
 

View this post on Instagram

 
In the end, Sting picked up the win and became the leader of a popular faction called Main Event Mafia.
Be it his social media or podcast, Angle seems to be nostalgic about his time at TNA. Is there one more return to wrestling left in Angle? Only time will tell.
WWE made last-minute changes to Kurt Angle's Speech
On The Kurt Angle Show, the Olympic Gold Medalist revealed that he made changes to his Hall Of Fame speech a few minutes before taking to the stage.
Before getting on the stage, a few WWE writers came up to Angle, asking him to make his speech entertaining, and it is then when he came up with the milk-drinking skit idea.
He said, "The Crazy thing is, five minutes before my speech, the writers came into my green room and said, 'Hey, we need you to be very entertaining."
Angle went on to call his speech fun and a way for him to relive his glory days.
"I got to relive my past, you know, doing the milk segment with two half-gallons of milk and throwing them back and the cowboy hat. Also, singing S*xy Kurt."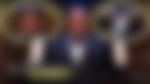 ADVERTISEMENT
Article continues below this ad
The former WWE champion also recalled how he made the last-minute changes to his speech.
"They're like, 'No, you got to do something entertaining.' I said, 'What do you want me to do?' They said, 'If you need anything, tell us, and we'll get it for you.' I said, 'I'm on in five minutes.' They said, 'We'll get it for you before the five minutes is up." (H/T Fightful)
And the rest is history, as we all saw it.
ADVERTISEMENT
Article continues below this ad
Kurt Angle's speech was an emotional rollercoaster, and when you look at his career, it is no wonder that he delivered such a fantastic speech.