"A Huge Mistake"- Released Superstar Trashes WWE
Published 07/24/2020, 7:00 AM EDT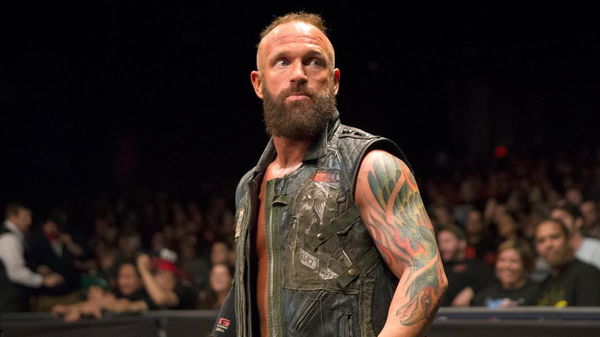 In a recent post on Twitter, talkSPORT's Alex McCarthy applauded Impact Wrestler Eric Young's statements which he made in an interview a few hours ago. 
ADVERTISEMENT
Article continues below this ad
In an interview on Busted Open Radio, former WWE Superstar Eric Young revealed his feelings with regard to his former company. His comments made headlines and highlighted the state of WWE today.
ADVERTISEMENT
Article continues below this ad
"I don't take it personally. He (Vince McMahon) made a mistake and, as a leader of the company and the person that decides everything, it's a massive mistake to pass on somebody with me," says Young.
Eric Young had a great run at NXT and was expected to take the main roster by storm. However, as soon as he reached the main stage, he wasn't utilized much, if at all.
Young struggled to find segments that were cut out for him and eventually got bored.
Eric Young's comments on Busted Open made headlines yesterday, but I gotta say, I really LOVE people who bet on themselves and know their worth. Believing in yourself is so vital.

WWE didn't work out for him, but he hasn't wavered in that belief.

Fuck yeah, I say, Eric. pic.twitter.com/7PIxUbW5Uy

— Alex McCarthy (@AlexM_talkSPORT) July 23, 2020
"You have a three-hour television show and you can't find five minutes for Eric Young? Your show is broken. It's as simple as that," says Young.
Eric Young feels better off without WWE
Eric Young was one of the unfortunate Superstars who WWE let go off earlier this year. WWE had to make a lot of budget cuts as a result of the pandemic that affected revenues. 
Part of these cuts involved laying off some backstage crew and Superstars. Although WWE did offer some of these Superstars a new contract with some pay cuts, others were not called back.
Young feels that this is WWE's loss and not his own.
"I've proven that I can do whatever, any role," says Young. "I'm not saying I can do it. I've already done it and I've proven that I can do it and do it very well."
ADVERTISEMENT
Article continues below this ad
"So, for me, it's a huge miss. A huge mistake. And now it's someone else's gain. And, personally, it's my gain. My soul hasn't felt this good in a long time. That's just the truth," explains Young.
Eric Young and an entire band of Superstars that left WWE earlier this year were picked up by IMPACT Wrestling. They have now become part of a refreshed roster and have exciting paths carved out for them.
ADVERTISEMENT
Article continues below this ad
Time will tell if WWE made a huge mistake letting Eric Young go. His future at his new company seems bright and he wants to give it his all, which was what he never got to do as a Superstar in the WWE Universe.
SOURCE:   Alex McCarthy Twitter, Busted Open Radio