Is Brock Lesnar Dangerous in the Ring? Kurt Angle Recalls Getting Injured by The Beast Incarnate
Published 03/17/2021, 9:00 AM EDT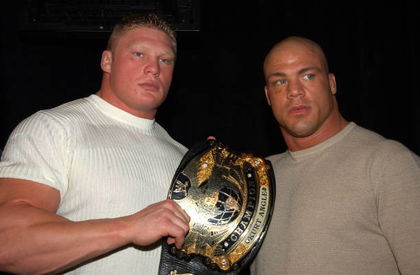 ---
---
Kurt Angle and Brock Lesnar had an intensely physical rivalry that stretched across 2003. Angle was the wrestling machine that could not be topped, and Lesnar was the brash, arrogant physical beast that was unstoppable. During their rivalry, there were two instances where Lesnar injured Angle, which begs the question. Is Brock Lesnar dangerous in the ring?
ADVERTISEMENT
Article continues below this ad
Kurt Angle talks about the injuries Brock Lesnar inflicted on him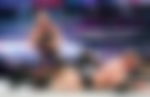 ADVERTISEMENT
Article continues below this ad
In his career, Brock Lesnar has broken limbs, busted open, and concussed wrestlers, including himself. His matches with The Undertaker at WrestleMania and Randy Orton at SummerSlam are a testament to how vicious Lesnar can get. However, his matches with Kurt Angle were the most physical.
On the Kurt Angle Show, Angle addressed the danger of wrestling Brock and offered a pretty rational explanation as well.
"It was actually my fault the second time. The first time it happened was when he slung me into the corner sideways, and my head whiplashed. That was the first time at No Way Out." 
While the first instance was Brock's fault, Angle remembered the second instance differently. The second incident took place eight months later.
"We had a show where Brock had to hit Chris Benoit and myself with chairs. And Chris told him earlier, 'I want you to swing sideways because of my neck'. He had surgery on his neck a couple of years prior and didn't want to re-injure it. I forgot to tell Brock that. So when Brock brought the chair, he brought it hard. He went over the top, right on top of my head."
"My vertebrae cracked; three of them cracked immediately, and I knew my neck was screwed. I knew again I was in dire straits and I was going to be out for a while."
Is Lesnar vs Angle one of the best wrestling rivalries?
The first WWE run Brock Lesnar had can be defined by his rivalry with Kurt Angle. From WrestleMania 19, all the way to Survivor Series, Lesnar and Angle competed in some of the most physical battles of all time.
ADVERTISEMENT
Article continues below this ad
Lesnar beat Angle in their first meeting at WrestleMania, but it took three F5s to put Angle down. The duo renewed their rivalry in the main event of SummerSlam 2003, where Angle made the Beast tap out to the Ankle Lock.
Finally, they captained their teams at Survivor Series 2003, where Team Angle prevailed over Team Lesnar. John Cena and Chris Benoit were the last men standing.
Within a year, Angle and Lesnar put on the best technical wrestling seen in the WWE. Angle and Lesnar would face off one last time in Japan, where Angle beat Lesnar for the IWGP Title.
ADVERTISEMENT
Article continues below this ad