"It Just Felt Weird to Me" – Bayley Reveals Her Initial Reaction When WWE Approached Her for a New Talk Show
Published 04/01/2021, 7:30 AM EDT
---
---
Bayley has been going through a rough patch for the past few months. First, she had an ugly fall-out with her tag team partner Sasha Banks. Post that, she lost the WWE SmackDown Championship to her friend turned fierce rival. If that wasn't enough, she was the first to get eliminated from the Elimination chamber even though she was the captain. To top it all off, she hasn't been in an audience capturing storyline for a while.
ADVERTISEMENT
Article continues below this ad
However, in what seems like an effort to resuscitate her brand, WWE has given Bayley her own talk show. And in a recent conversation with Renee Paquette, she revealed her process of deciding how to set up her character for the talk show.
She wanted to differentiate between her in-ring character and the character which conducts her talk show.
ADVERTISEMENT
Article continues below this ad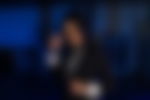 "It just felt weird to me because, I don't know. I'm trying to grow my character a little… insane aggressive little. So, I was like 'she can't have a talk show'. I just wanted to be like a whole different type of character and I couldn't tell if I wanted to be like a talk show host that's trying too hard and I'm trying too hard to look the part or do I just want to look ridiculous.
"Either way, I wanted to look stupid and funny just, I don't know, poke fun at the idea."
It's safe to say that she went with a unique look and personality which worked out in her favour.
Bayley reveals other details about her talk show
Renee Paquette wanted to know how Bayley felt when the company informed her about the talk show.
She revealed that the company did not inform her when the discussions about her own talk show started. Instead, WWE informed her about it once everything had been decided.
ADVERTISEMENT
Article continues below this ad
"One time they just text me, the couple of days before TV, and they're like 'hey, so, we're gonna start this talk show for you. I was like 'I'm gonna have a talk show, like, why? What am I gonna talk about? I know it was not my idea at all I just had no idea why they wanted to do that."
However, she knew the company chose her for a talk show because they must have liked the way she talked and conducted herself inside the ring.
Moreover, she revealed it was she who decided how the ring will look like during her talk show. She wanted the theme to align with the name 'Ding Dong, Hello'. Hence, she put a door in the middle of the ring.
ADVERTISEMENT
Article continues below this ad