"It Was a Shame" – WWE Legend Kurt Angle on a Backstage Fight Between Batista and Booker T
Published 05/22/2021, 8:15 AM EDT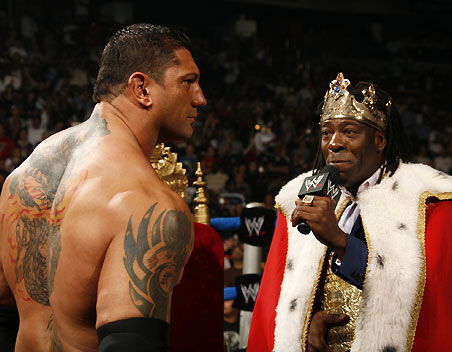 ---
---
Batista and Booker T are two former World Champions synonymous with the SmackDown brand. The two even feuded for the World Heavyweight Championship back in the day. However, their feud turned ugly as they got into a real life fight.
ADVERTISEMENT
Article continues below this ad
There have been several versions of what happened between Booker and Batista. Luckily, we finally know from someone who was actually a part of the WWE locker room back then and was on location where it all happened.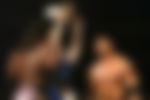 ADVERTISEMENT
Article continues below this ad
Kurt Angle details the Booker T – Batista real-life brawl in 2006
During the latest episode of The Kurt Angle show, Conrad Thompson asked Kurt Angle what he knows about the real-life altercation that ensued between Booker T and Batista during a commercial shoot for SummerSlam 2006. Kurt Angle revealed he actually reached the shoot after the fight happened.
Although he didn't see all that go down in front of his eyes, he reached soon after. Angle heard an unfiltered and true version of what went down. He revealed someone from the Raw or ECW roster approached Batista and the two got talking. That's when the 'Animal' said something that didn't sit well with King Booker.
Angle said, "Someone approached him and Batista said, 'Hey, when are you coming over to SmackDown? Because I have nobody to work with.' And Booker took that as, 'Wait a minute, I'm on SmackDown. There's a lot of people to work with.'"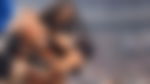 Kurt added that he thinks Batista simply meant he wanted to work a program with whoever he was talking to as there were lot of open spots on SmackDown. The blue brand had several injuries, and hence, he must've said that. Angle also added Batista had nothing personal with Booker and the rest of the SmackDown locker room.
Detailing further about the incident, Angle said, "So Batista said it, and Booker T confronted him. Now the situation got hotter because Booker confronts Batista, makes Batista look like an idiot, Batista yells back at Booker, then they end up in the fight confrontation."
Kurt Angle says the fight shouldn't have happened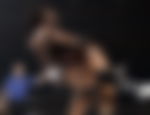 The 1996 Olympic Gold Medalist also revealed he saw Booker T with a black eye and Batista a little banged up when he arrived. His personal thoughts were that it was a big misunderstanding. And guess what? It actually was. Angle shared that both men later apologized to each other, made up and moved on.
ADVERTISEMENT
Article continues below this ad
However, despite all this, Kurt Angle wasn't a fan of what went down and concluded with some strong words. He said, "I just think it was a big misunderstanding, and they just misunderstood each other about the whole situation. It was a shame, it really was. It didn't have to happen."
Well, now we finally know what happened between Booker and 'The Animal' that day. It's also good to know that the two reconciled shortly after and did not drag it any further. The two would go on to face each other at SummerSlam for the title as the future 'Guardians of the Galaxy' Star pursued the championship.
ADVERTISEMENT
Article continues below this ad