"It Was Strange"- Booker T Reveals Why The Ultimate Warrior had his Own Dressing Room
Published 05/28/2021, 9:30 PM EDT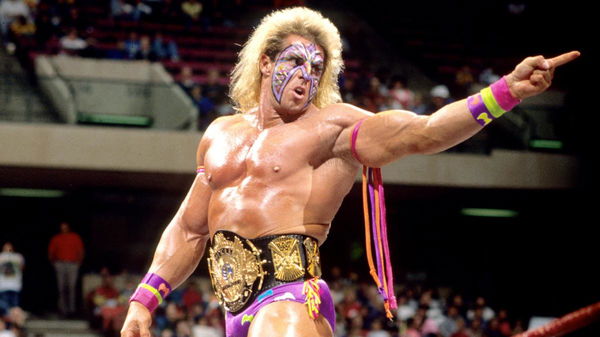 ---
---
One of WWE's most eccentric superstars was the Ultimate Warrior. With A&E's documentary on the former joint WWE and Intercontinental Champion, along with the Dark Side of the Ring episode, stories about Warrior are flying all over the place.
ADVERTISEMENT
Article continues below this ad
Booker T recalls sneaking into Ultimate Warrior's dressing room
ADVERTISEMENT
Article continues below this ad
In 1987, James Hellwig, aka the Ultimate Warrior, walked into the WWE. Touted as Hulk Hogan's equal, Warrior's rise to the top was not only spectacular but also controversial. There were many stories about the Ultimate Warrior and his relationship with WWE, but the man behind the mask is an icon.
With the recent airing of Biography: Ultimate Warrior on A&E, WWE legend and Hall of Famer Booker T narrated an incident from his WCW days on the Hall of Fame podcast. It involved him sneaking into Warrior's dressing room and finding the experience quite odd.
He even explained why he thought Warrior needed his own dressing room and didn't dress with the rest of wrestlers.
"I walked in it, just to peak in it and the whole room was Warrior everywhere. He had Warrior gimmicks all over the room. I was like, 'wow!' It was just a little strange, a little eerie, that he didn't dress with any of the boys or anything like that." (H/T Wrestling Inc)
"I was reading earlier that for one of the AEW matches, Darby Allin would change in the boiler room. Just to get used to his element. Maybe the Warrior had this just to find his thing. Because to play that character, just looking at some of the behind the scenes, watching the Warrior trying to conjure up that Warrior spirit, it seemed like something that wasn't that easy to do."
Watch this Story: The Most Devastating Spears of Roman Reigns
Is Ultimate Warrior one of the best of all time?
There aren't many wrestlers who stood toe-to-toe with Hulk Hogan. Of the ones who fought him bravely, only a few defeated him at WrestleMania.
At WrestleMania VI, Ultimate Warrior granted Hogan his first clean loss at WrestleMania. He not only retained his IC Championship but also won Hogan's WWE Championship.
ADVERTISEMENT
Article continues below this ad
On the podcast, Booker went further and explained he thought Warrior needed his own dressing room.
"Anyone who got to that status or made it that level, you've got to give them that respect. A new guy, a new guy may get some problems. But I don't think the Ultimate Warrior, as big a star as he was, as much money as he was making for the company, give him his own dressing room."
Given the Ultimate Warrior's turbulent run with WWE, is Booker's analysis correct, or is it controversial?
ADVERTISEMENT
Article continues below this ad