"It Was Vince's Idea" – Kurt Angle Reveals Triple H Was Unhappy With Vince McMahon Getting Him to WWE Meetings
Published 08/02/2021, 7:30 AM EDT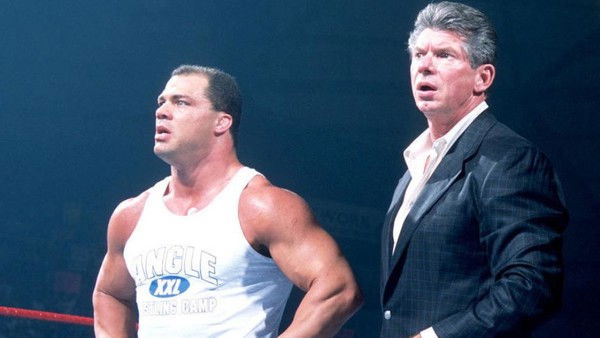 ---
---
In the pro-wrestling business, there is more than just mindless fighting in the squared circle. The backbone of this business is the crew behind the scenes who put in hours to come up with storylines and character development. Most of the times wrestlers are not part of these production meetings, but Kurt Angle found himself in those meetings.
ADVERTISEMENT
Article continues below this ad
Angle was a gifted athlete, who had the natural charisma to pull off magical segments with just about anyone in the company. It was because of his tremendous sense of the industry that Vince invited him to be a part of the production meetings.
ADVERTISEMENT
Article continues below this ad
Speaking on his podcast, The Kurt Angle Show, Angle revealed he didn't want to go in those meetings in the first place and how it was entirely Vince McMahon's idea.
Watch this story: Former WWE Superstars Who Are Thriving in AEW.
Angle confesses he started getting backlash after attending production meetings
On his podcast, he said that the chairman of WWE wanted him to understand the business much quicker and act accordingly. He also admitted that maybe McMahon wanted Kurt to stick around for a really long time that's why he was showing him the other side of the business.
He said, "It wasn't my idea to start attending the meetings, it was actually Vince's idea. And I don't know why Vince wanted me to go. I think, he was trying to train me as a long-term employee of the company. So he wanted me to understand the business much quicker, and he wanted me to understand the production and everything else that goes along with it.
Angle also confessed that because Vince added him to those meetings and agendas, he started getting "heat" backstage from his co-workers because of the special treatment he got.
Angle added, "So he asked me to start going, and I went for about a year. My first year, and I started getting wrestlers were getting standoff-ish to me, and felt like maybe me going into meetings. They knew I was going there. They thought maybe I was politicizing for myself, and I never did." 
ADVERTISEMENT
Article continues below this ad
ALOS READ: "This Could Be a Brand New Start" – Did Bray Wyatt Predict His WWE Release After WrestleMania?
How did 'The Game' feel about it all?
He later clarified that Triple H had no beef with him because he was joining the production meetings with him. However, he added that Hunter said nothing bad about me "as long as I was there". He subtly said that maybe 'The Game' used to talk about him before or after he was gone from those meetings.
ADVERTISEMENT
Article continues below this ad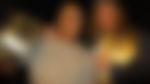 Eventually, Angle became an exclusive part of WWE's backstage production when he became the General Manager of Raw in 2017, just days after his Hall of Fame speech.