WWE Announces Big Rematch for Roman Reigns on SmackDown
Published 09/18/2020, 8:00 AM EDT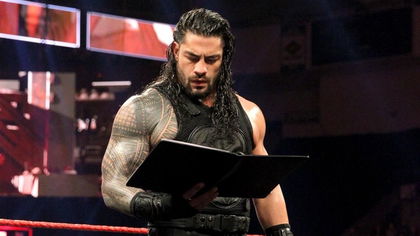 ---
---
There will be a very awkward encounter on Friday Night SmackDown, as another tag team match will take place. WWE announced recently that Roman Reigns and Jey Uso will take on Baron Corbin and Sheamus yet again.
ADVERTISEMENT
Article continues below this ad
The duo of cousins will have to work together again, and things do not look good between the two. Last week on SmackDown, Jey had to wait for the entire match for his partner to show up. 
ADVERTISEMENT
Article continues below this ad
Taking all the beating from Baron Corbin and Sheamus, Uso had to endure. However, he soon found his momentum and took the fight to his opponents. 
He quickly outclassed Sheamus and Corbin but in the end, the numbers game added up. Sheamus had him in position for a Brogue Kick. Finally, Reigns decided to show up.
Taking his own steady pace, "The Big Dog" began walking towards the ring. Using the distraction to his advantage, Jey Uso was able to tactically move out of the way and ambush Sheamus. 
He then took out Corbin with a swift jump outside the ring. Quickly, Jey delivered a superkick to Sheamus who was still looking out for Roman.
Roman Reigns did Uso dirty and stole his moment
The high flyer climbed to the top rope and was about to execute a splash. To everyone's surprise, Roman Reigns tagged himself in!
Uso executed his move but as he tried to pin Sheamus, the official informed him that the tag had been made.
Without complaint, Use rolled out of the ring. He then watched as Reigns finished off a weary Sheamus with a thunderous Spear. Uso knew that the victory had been stolen from him.
ADVERTISEMENT
Article continues below this ad
There was an intense glare exchanged by the two cousins following the victory. Now their toxic relationship will have to endure another partnership on Friday night. 
https://www.instagram.com/p/CFBOP1EB_es/?utm_source=ig_web_copy_link
Roman Reigns has made it clear to Uso that family won't matter when he defends his title. This blood feud means nothing to "The Big Dog". For him right now, water is thick, blood is thicker, and gold is the thickest. 
ADVERTISEMENT
Article continues below this ad
Reigns will not hesitate in Spearing Uso three times if he has to. Perhaps, Sheamus and Corbin can use this friction between the two to their advantage and pull off the victory.