Jim Ross Recalls Vince McMahon's Warning to Mick Foley After his Scary Bump at Hell in a Cell
Published 06/06/2021, 10:54 PM EDT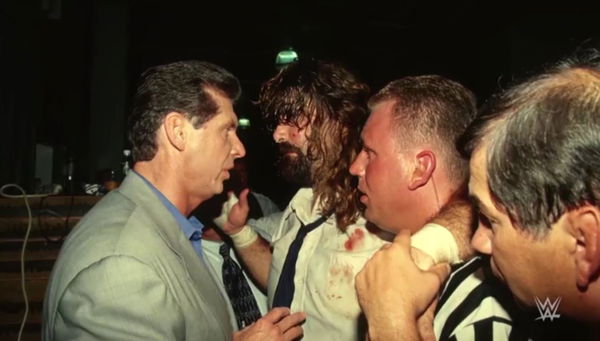 ---
---
Long after his career ended, we still remember Mick Foley as a human crash test dummy. The Hardcore Legend has performed some of the riskiest stunts in WWE history and suffered the nastiest injury. What we often wonder is: did Mick Foley ever get into trouble backstage for his wrestling style.
ADVERTISEMENT
Article continues below this ad
Vince McMahon warned Mick Foley after Hell in a Cell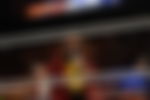 Putting your body on the line is something a wrestler has to deal with daily. Injuries take years out of wrestlers' careers, but it rarely stops them from performing. As for Mick Foley, taking big bumps became part of his package.
ADVERTISEMENT
Article continues below this ad
From being tossed off Hell in a Cell, to being speared through a flaming table, the batsh*t crazy moments kept rolling for Foley till he retired. On the Grilling JR podcast, former WWE commentator and talent executive Jim Ross remembers having tough conversations with Foley on the matter.
"Mick was a very unselfish performer. But yeah, we did have those conversations, just like the one Vince had with him after that Hell in a Cell. 'Never, ever come close to doing this again.' Whether that's true or not [whether Vince McMahon meant it], we saw Shane [McMahon] take some crazy-a** chances, and every year somebody tries to outdo Mick's bump."
"I don't know why. I don't know what it proves. It's not logical, and the risk/reward is out of balance. I talked to Mick several times about that. Sometimes he would do too many things. You keep taking big chances, somewhere along the way you're gonna get your a** blown up. And so… limit your chances. Eliminate as many as these opportunities to put yourself in the hospital or affect your career going forward."
Watch this Story: Unexpected Tag Team Partners of The Undertaker
Foley's craziest moments
ADVERTISEMENT
Article continues below this ad
When he walked into the WWE, few expected Mick Foley to reach the levels of violence he popularized in Japan and in independent promotions. However, they were in for a nasty treat.
In 1998, Undertaker tossed Foley from the top of Hell in a Cell, and then chokeslammed him through the roof of the cage. Two years later, Foley had the same match and took the same roof-breaking bump in a brutal war against Triple H.
ADVERTISEMENT
Article continues below this ad
If the Hell in a Cell matches weren't a sign that Foley indulged in extreme levels of violence, his match against Edge at WrestleMania 22 will make things clear. Taking a shot to the skull with a baseball bat is crazy, but being speared through a flaming table? Long live Mick Foley.