Jim Ross Reveals Brock Lesnar Received Poor Advice from Fellow Wrestlers Mr. Perfect and Kurt Angle
Published 03/11/2021, 9:24 AM EST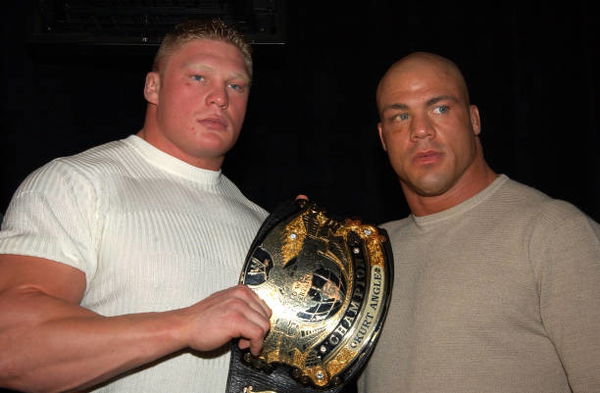 ---
---
Brock Lesnar had a meteoric rise to the top of WWE during his first stint. His talents were superlative, and he looked like a wrestler Vince McMahon made with his own hands. However, his first run with the WWE did not last very long. Despite a successful run, he was out of the door by 2004.
ADVERTISEMENT
Article continues below this ad
Brock Lesnar received poor advice from wrestlers
ADVERTISEMENT
Article continues below this ad
In his two years with the company, Brock Lesnar won the WWE Championship within two months of debuting, won the 2003 Royal Rumble, and main evented WrestleMania 19. Unfortunately, these accolades weren't enough to make him stay and not leave for the NFL.
According to Jim Ross on the Grilling JR podcast, Lesnar was exhausted from the wrestling business. This left him prone to bad advice from fellow WWE superstars.
"Well, he was burned out. He was getting bad advice from some of his peers, I believe, and he had this dream of playing in the National Football League, and apparently, he had that dream for many, many years."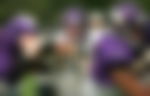 JR also claimed it could've been wrestlers like Curt Hennig, Kurt Angle, and other wrestlers from the 'Minnesota Contingent' who filled Lesnar's head with poor advice.
"Maybe Perfect, maybe Kurt. He (Angle) knew that he could get you. And to see somebody rolled up in anxiety and angst, thanks to your prodding and your subtle positioning, was a rib. And some guys fell for it."
After two years with the WWE, Lesnar left to join the Minnesota Vikings. Unfortunately, his football career ended after he met with a motorcycle accident, resulting in several injuries. The Vikings released him after Lesnar played in several preseason games.
Was Brock prepared for the WWE?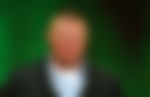 A career in the WWE involves travel, wrestling hundreds of matches a year, and staying away from your family. It is a sacrifice that many talented superstars make, but it was one Brock Lesnar wasn't ready to make.
ADVERTISEMENT
Article continues below this ad
"He was in a world that he had not prepared for, ever in his life," said Jim Ross.
"More money, more travel, more fame, more fortune. And he was having; I won't say family issues, but you know, he was trying to raise his daughter and the marital, or ex-marital issues, he was dating Sable, which was a great thing for him, and it has been a wonderful marriage. They got great-looking sons, but at that time, it was just more drama on his plate."
ADVERTISEMENT
Article continues below this ad