"The Undertaker Needs to Be Put in Jail"- AEW Superstar Trent Makes a Shocking Statement
Published 01/23/2021, 6:30 AM EST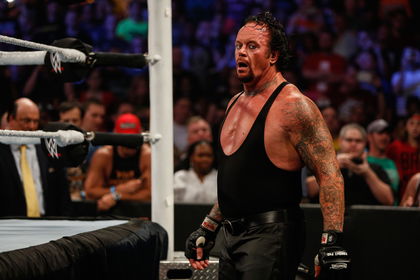 ---
---
The Undertaker's appearance on the Joe Rogan Experience podcast had its moments, but one of them created an uproar amongst wrestlers of the current generation. Undertaker commented on the difference between the male wrestlers of the 80s and 90s, and the stark difference in today's wrestlers. AEW superstar Trent had a very interesting response to the comments made by the Deadman.
ADVERTISEMENT
Article continues below this ad
WWE and AEW stars react to the Deadman' comments
On the podcast, Undertaker noted that the current WWE product has gone soft. "I'll probably pi** a lot of people off, but they need to hear it. There's too much pretty and not enough substance." He followed that statement with a pretty inflammatory comment about the current crop of WWE superstars.
ADVERTISEMENT
Article continues below this ad
"In that era of guys too, men were men. You go into a dressing room today and it's a lot different. I remember walking into my first real dressing room… half of them had knives and guns in their bags. Sh*t got handled then. Now you walk in and there's guys playing video games and f**king making sure they look pretty."
These comments got responses from the likes of Xavier Woods, an avid gamer, Cedric Alexander, and of course Trent Baretta. The AEW star responded to a tweet from Tom Prichard, another former WWE superstar. He believed that Taker's comments on the podcast weren't toxic at all, and should be a required listening for all wrestlers.
How do the comments made by Undertaker reflect on the WWE?
I wouldn't be the person that I am without the guidance and lessons of a few key people from the previous generation of wrestling. They taught me about the business, to save my money, & that having video games in the locker room is healthier than having [redacted]. Thank you guys

— Austin #Creed4G4 – Future King of The Ring (@AustinCreedWins) January 21, 2021
ADVERTISEMENT
Article continues below this ad
Usually, the words of a thirty-year veteran would be gospel to a crop of young talent. However, the difference in environments when Taker was a rookie and when he's a legend is supremely different. The wrestlers of the past carried weapons backstage, as highlighted by Jake Roberts in his interview with Joe Rogan in 2018. He mentioned how Roddy Piper pulled a pistol on him because of a prank with his snake.
Hearing comments like these warranted a much larger reaction from the wrestling community, but maybe the respect for the Undertaker made some hold back their feelings. As for the Undertaker, it is unlikely that he regrets his statements. He is one of the toughest men in the world, and millions of people respect his opinions.
ADVERTISEMENT
Article continues below this ad
The responses from Cedric Alexander and Xavier Woods should not get them into any trouble. It should inspire other wrestlers to speak up about how the environment in the locker rooms has changed for the better.