John Cena Adjusts Baron Corbin's Attitude to Kick off WWE Smackdown
Published 07/30/2021, 9:16 PM EDT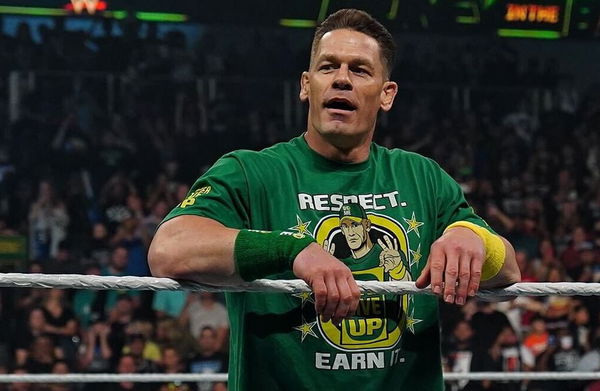 ---
---
On This week's WWE Smackdown, the Leader of Cenation John Cena opened the show as a massive pop from the Minneapolis crowd welcomed him. The 16 time WWE Champion addressed his disappointment in the current WWE Universal Champion, Roman Reigns, for not accepting his SummerSlam Challenge. Cena then humiliated Reigns by pointing out that the Tribal Chief needs a new gimmick now and then as he feared failure.
ADVERTISEMENT
Article continues below this ad
After Cena's promo, Baron Corbin showed up, and the duo had a hilarious conversation. But it ended up in Cena hitting an Attitude Adjustment on Corbin.
ADVERTISEMENT
Article continues below this ad
John Cena warns Roman Reigns that he will embarrass him
John Cena was in his prime game when he came out to cut a promo in response to Roman Reigns' denial of his SummerSlam challenger. First, John Cena pointed out that it was stupid for Reigns to say that he doesn't want to fight the 16 time WWE Champion because he felt there was no change in Cena for over two decades.
Cena then responded by pointing out that it would have been a tragedy if Stone Cold Steve Austin and The Rock completely changed their gimmick even after being the best in the business.
Watch this Story- Six Times John Cena Stole Finishing Moves of Other WWE Superstars
John then mocked Roman Reigns by stating that he had to keep changing his character, as the crowd never cared for him and believed in him. Cena called Reigns as nothing more than a lazy stooge named Joe who is afraid to fail. However, Cena was in top gear when he stated Reigns didn't reject him for how he looked but instead, for how he would make the tribal chief look at the SummerSlam.
Baron Corbin interrupts Cena
This was interesting. Baron Corbin entered the ring as soon as John Cena finished his promo. The former Intercontinental Champion received significant heat from the Minneapolis crowd as he requested help from John Cena.
Corbin then added that he suffered an injury to a very sensitive part due to the outcome of a backstage segment on last week's Smackdown. The duo had a hilarious exchange as John made a few jokes about his injury. Cena then asked the fans whether he should help the poor Corbin, to which the majority of fans said no.
ADVERTISEMENT
Article continues below this ad
Cena, who admitted that Corbin looks horrible, granted a few dollars to Corbin, but the latter was not impressed with the sum. He then went to ask for a role in Cena's upcoming movie, The Suicide Squad, to which Cena replied by saying the shooting of the film is over and that it is on its way to the theaters. Cheeky move from The Suicide Squad actor!
ADVERTISEMENT
Article continues below this ad
Corbin then insulted Cena, calling him a self-absorbed Hollywood sellout. Finally, Cena said Corbin needs to learn a lesson as he hit the former Intercontinental Champion with Attitude Adjustment, which the fans saw coming the moment Corbin came out.