John Cena Candidly Exposed WWE's Fake Propaganda While Throwing Dirt on Austin Theory's Career
Published 03/06/2023, 10:57 PM EST

Follow Us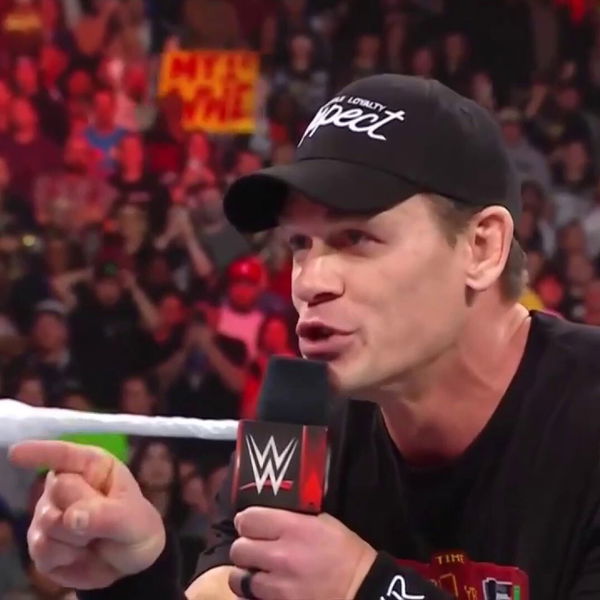 16-time World Champion John Cena is finally in the house and back where he belongs during WrestleMania season. He greeted the fans at the TD Garden and was set to address the WWE Universe when Austin Theory's music interrupted him. The United States Champion, who emerged to a chorus of boos, wasted no time in challenging 'The Cenation Leader' to a title match at WrestleMania 39. But Cena had some other suggestions in mind and slammed 'A-Town' over WWE's fake technology.
ADVERTISEMENT
Article continues below this ad
'The Cenation Leader' took a second and rejected the challenge. He claimed Austin Theory had gotten several opportunities, and he didn't deserve a match with him. John Cena recalled how Ruthless Aggression almost got him fired, which gave him one opportunity. When Theory retaliated and spoke about the former WWE champion's bald spot, he was met with a brutal retort.
'Super Cena' candidly shed a light on how WWE has to fill the arena with fake crowd noise for Theory's matches. He said, "I would so much rather be bald than have them pipe in FAKE CROWD NOISES for my matches because nobody cares."
In the end, after the WWE Universe insisted, Cena accepted the challenge. However, the WWE veteran is sure that Theory isn't ready for WrestleMania and promised to teach the young superstar this valuable lesson. The wrestling community reacted to the Theory-Cena segment on social media.
Fans react to John Cena brutally slamming Austin Theory!
Austin Theory was already making plans to confront Cena upon his return to WWE. Unfortunately for him, the plan backfired as John Cena was absolutely gold on the mic tonight. He could feel the energy of the WWE Universe and just ripped the US Champion on the spot. 'Super Cena' seemingly tapped into his Doctor of Thugganomics and Peacemaker persona during his Raw promo that set up the WrestleMania 39 showdown.
Fans, too, went berserk as the promo was ongoing and a few who were at home shared their reactions on Twitter. Some members of the WWE Universe commented on the absolute carnage on the mic and were in awe of the future WWE Hall of Famer.
Cena has been brutal 😂😂

— David Weissman ✡️ (@davidmweissman) March 7, 2023
Brutal Cena is the best Cena 😭

— Thomas 👋 (@FIFASLAYER7) March 7, 2023
John was Savage 😆😆😆 I loved it

— Stephen Cervantes (@Stephen_7777) March 7, 2023
One fan likened the verbal dressing down on Raw to a crime, claiming that they would summon law enforcement.
I'm going to call Boston pd since I just witnessed a live murder on tv at td garden

— Josh Chavez (@thechavez90) March 7, 2023
Some other fans were of the opinion that John Cena ripped apart his WrestleMania 39 opponent, with one calling for some ice for the US Champion.
Someone get Theory some Icy Hot for that burn

— Alicia Gutierrez MBA (@AliciaIGutierr1) March 7, 2023
Cena killed that promo

— IG: @DJLGee420 (@DJLGee420) March 7, 2023
Despite getting brutally schooled on the mic, Theory went to the back, having accomplished his mission as he secured a WrestleMania date with John Cena.
That was brutal trash talk lmao

— Qhoggard_51 (@BigA_quila14) March 7, 2023
ADVERTISEMENT
Article continues below this ad
Cena, having confirmed his return to 'The Showcase Of The Immortals' for the first time since WrestleMania 36, also had a passing-of-the-torch moment with Cody Rhodes to end the segment.
ADVERTISEMENT
Article continues below this ad
Cena came to address the WWE Universe in Boston, but instead quickly decided to lay the "SmackDown" on Theory on Monday Night RAW. What did you make of the segment? Can Cena maintain his undefeated streak in US title matches at WrestleMania? Or will Austin Theory succeed where The Big Show (WrestleMania 20) and Rusev (WrestleMania 31) failed? Let us know in the comments section below.
Watch This Story – Deep Dive Into Hollywood Star and WWE Legend John Cena's Lifestyle