John Cena Comments on Losing His Peacemaker Helmet to Jimmy Fallon on The Tonight Show: "I Foolishly Bet the Helmet"
Published 01/12/2022, 12:00 PM EST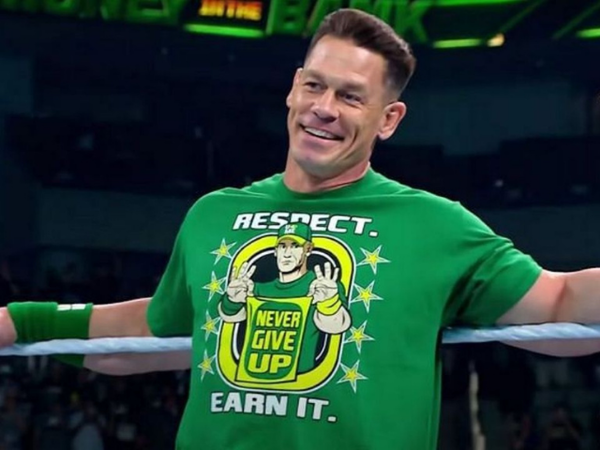 ---
---
Hollywood star and WWE Superstar John Cena is buzzing all over with his new American TV Series called the "Peacemaker". Cena is playing the main character in the series adapted from the Suicide Squad characters.
ADVERTISEMENT
Article continues below this ad
Recently, the Prototype appeared on the Rich Eisen Show where he talked with Rich about his character in the series. Moreover, he also mentioned his appearance in The Tonight Show with Jimmy Fallon.
During his interview, Rich questioned Cena about his recent interview with Jimmy Fallon and losing his helmet to Fallon. Cena said that they both played the game called 'Fish lap' and he didn't know the game. Further, he bet the helmet on confidence that he will win.
ADVERTISEMENT
Article continues below this ad
Cena said, "Nothing is ever. We don't play for anything. So to make something competitively interesting, you got it you got to have some on the line and I foolishly bet the helmet and I, he was gonna give me the tonight show Mike and I sent him to frosted hair tips. Because he would hate it so much."
Watch This Story: Roman Reigns' Spear to Brock Lesnar's F5: Most Devastating WWE Finishers of 2021
"You'd have to get a really short haircut to for one for me. But like I said, sucker's bet. And he knew that he actually knew what game it was. And I had no clue. I went in overconfident. I blame it on the peacemaker outfit. And I ended up losing the helmet."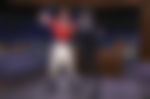 Cena told Rich how he lost his helmet to Jimmy Fallon and how funny the game was to play with him. Eventually, Cena accepted that he went in confidence to bet his helmet and ended up losing it.
John Cena features in a new character in the DC's TV Series
Lately, John Cena has entered the DC Universe with a new character on board the Peacemaker. The character emerges from the movie Suicide Squad.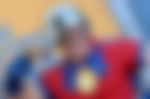 John Cena plays a new role in the DC's TV series Peacemaker.
ADVERTISEMENT
Article continues below this ad
The writer of the Suicide Squad James Gunn describes Peacemaker as an anti-hero and anti-villain character at the same time and the world's biggest douchebag. The storyline runs around the Peacemaker who wants peace at any cost and who can kill anyone to detain peace.
everyone likes to fight on the internet, i get it. that's what it's here for. but im here for peace, so i'm going to resolve all your petty arguments. @ me using #ArbitratorOfPeace to tell me who you're arguing with and what you're arguing about, and i'll settle it – peacefully. pic.twitter.com/mmuJpHj92b

— Peacemaker on HBO Max (@DCpeacemaker) January 10, 2022
ADVERTISEMENT
Article continues below this ad
The Peacemaker series will air this Thursday 13th Jan on the HBO Max network. Are you excited to see John Cena in a new avatar? Tell us in the comments below.