John Cena Impressed With Xavier Woods' Rendition of his Hit Song, Right Now
Published 06/19/2021, 2:45 PM EDT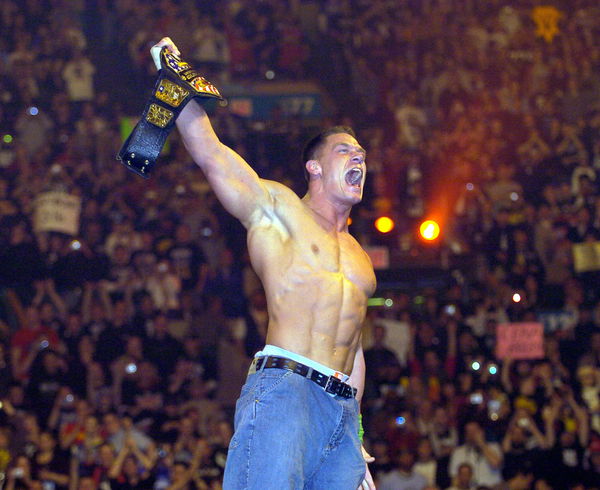 ---
---
It's been a while since John Cena stepped in a WWE ring, but it's been longer since he stepped in the recording booth. In 2005, Cena produced a hit rap album named You Can't See Me. As you'd expect, Cena's album reached platinum in 2010, and people still bop to the tune.
ADVERTISEMENT
Article continues below this ad
John Cena wants the 'Band back together'
ADVERTISEMENT
Article continues below this ad
One fan who still bops to Cena's music is current WWE superstar Xavier Woods. Lately, Woods replaced his iconic trombone, Francesca for a bass guitar (to be named). On the bass guitar, he performed to Cena's hit song Right Now and mentioned Cena in a tweet.
Impressed by the performance, Cena offered Woods a once in a lifetime opportunity. He proposed 'bringing the band back together' with Marc Predka aka., Tha Trademarc and Rob MacIntyre, but wants to bring a surprise member on board. That member is none other than Big E, who Cena claims has bars.
If Big E could rap, something that would be one of his many talents, it would be a world tour that would sell out faster than Cena's match with the Undertaker at WrestleMania 34. It's been sixteen years since John Cena released You Can't See Me, and his WWE and film career has skyrocketed in that period.
Big E even responded in hilarious fashion, saying, "Me?!? Bars?!?." Woods replied with "OLK4life", clearly saying that he'd be on board for this project. If we don't get Reigns vs Cena at SummerSlam, can we please get a new Cena rap EP featuring Big E and Xavier Woods?
Watch this story: Most Controversial Moments in WWE Hell in a Cell History
How good was Cena's music career?
ADVERTISEMENT
Article continues below this ad
John Cena debuted in 2002 as a greener than grass babyface who stood up to Kurt Angle. Although he lost, he won the respect of the fans, wrestlers and backstage personnel. Within a few years, Cena rose to the top of WWE, but he still needed to pursue a strange challenge.
The sixteen-time World Champion was a lifelong rap fan and wanted to create something in the genre. Out of the white rapper gimmick, Cena's first EP, You Can't See ME became a reality. Combine Cena's movies and earlier matches before superstardom, and nothing comes close to seeing Cena shredding it in the recording booth.
The album debuted on the Billboard 200 charts at #15 and sold over 40,000 records in the first week. As of October 8th, 2010, Cena's album touched platinum after selling 1,346,000 units.
ADVERTISEMENT
Article continues below this ad