Karrion Kross and Samoa Joe Cause Complete Chaos to End WWE NXT Ahead of TakeOver 36
Published 08/18/2021, 1:12 AM EDT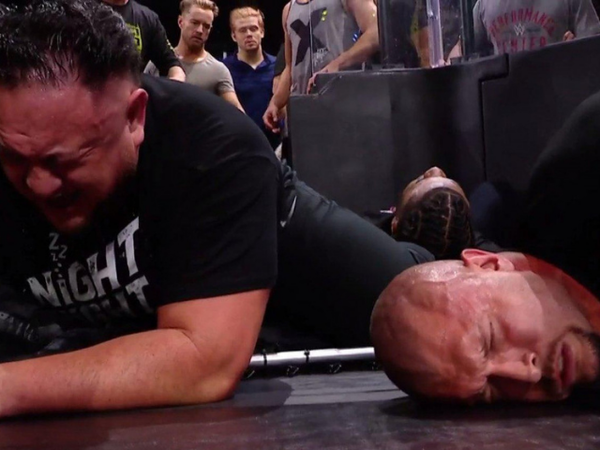 ---
---
WWE NXT: August 17th, 2021 featured a segment involving NXT Champion Karrion Kross and challenger Samoa Joe. Their appearance in a segment wasn't surprising since it's about the NXT Championship, but what happened during the segment excited everyone watching.
ADVERTISEMENT
Article continues below this ad
First, it was Samoa Joe in the ring. He wanted to let Kross know that before the match, he wanted to have one last face-to-face meeting for a very specific reason.
"Karrion Kross! The venom that seeps through my lips when I talk about you. In fact, I thought I would look forward to tonight a lot more than I currently do. One last face-to-face meeting before the big championship match. One more opportunity for me to verbally eviscerate you in front of the world."
ADVERTISEMENT
Article continues below this ad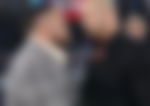 Following this, he told Kross that he does not want to hurt the champion's feelings but wants to hurt the champion himself. Hence, it was time for Kross to come down to the arena and talk to Joe, face Joe, and endure the pain Joe was going to put him through.
This is when Kross entered the arena with a mic and the championship belt in hand. He explained to Samoa Joe why the NXT title does not belong with him. Kross revealed that Joe is not the future of WWE NXT.
"You still don't get it, Joe. This isn't even about you. Hell, this ain't even about me. This is about the future of this brand. You think you're just going to walk into TakeOver 36 and become NXT champion after taking a year off? I don't think so."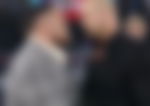 After this, Kross called for NXT security but informed Joe it was for Joe's protection. Upon entering the ring, the current champion claimed he will drop Joe extremely hard at TakeOver 36. This did not sit well with the challenger!
Karrion Kross and Samoa Joe ended the segment with a massive brawl
When the champion told Joe about what he would do at TakeOver 36, Joe lost his cool. He pushed Kross to the ropes and attacked. When the security brought Kross out of the arena, Joe took a leap from the ring and through the ropes and put down the security team along with Kross.
The brawl continued to a point where the referees had to rush out as well. Right when everyone thought it was over, Kross freed himself from the security team's hold and bashed Joe's head against the steel steps. Next, Joe put Kross through the barricade and broke it.
Watch This Story: The Greatest Moments Wins Of WWE Legend John Cena Part 2
However, the security team and referees again got a hold of the Superstars and pull them apart. At this point, Kross charged towards Joe with his head and took him down, again.
ADVERTISEMENT
Article continues below this ad
The segment ended as the announcers revealed these are two men who will do anything for the NXT Championship title.
ADVERTISEMENT
Article continues below this ad
Who do you think will be the NXT Champion following TakeOver 36? Let us know in the comments below.