WATCH: When CM Punk buried Triple H with Nasty Insults
Published 08/13/2020, 4:17 PM EDT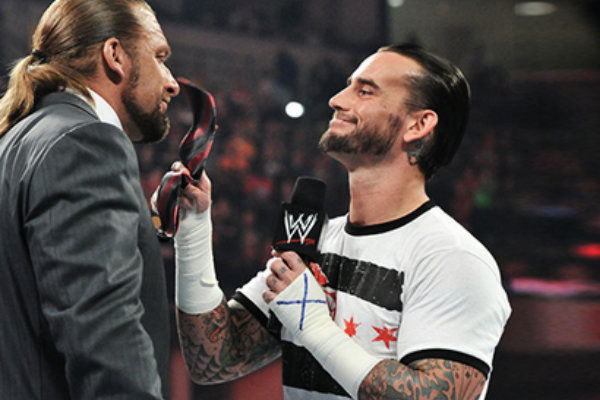 ---
---
Many Superstars come and go in WWE, and many deliver the best segments. However, no one did them quite like CM Punk in his prime at WWE. The man was unstoppably hilarious.
ADVERTISEMENT
Article continues below this ad
I would like to take you back to 2012 when Kevin Nash had made his return to WWE, much to Triple H's disagreement, and ignited a feud with CM Punk. 
ADVERTISEMENT
Article continues below this ad
The entire thing revolved around Nash's appearance in SummerSlam. Kevin Nash made an unexpected entrance at SummerSlam 2011, claiming he got a text message from Triple H. 
Clicking the fast forward button now, the three found themselves in the ring, with Triple H as the COO of the company trying to be the voice of reason. However, CM punk kept hurling fat insults to Triple H, instigating Nash even further.
The insults were directed close to home for "The Game" as it revolved around the lines of him being the puppet of his wife Stephanie McMahon. Punk also constantly asked Triple H to get the approval of his wife before making any decision regarding the feud.
Enraged, Kevin Nash punched CM Punk down which made the feud closer to being a possibility. However, Punk wasn't done.
CM Punk made sure he did the maximum verbal damage
In the next segment, Punk went about the same strategy, only this time he completely ruined Triple H in front of all the fans. Kevin Nash didn't help alleviate the burden either. He didn't allow the two friends to patch up either and went on a 30-second fake-vomiting spree to demonstrate his lack of confidence in that solution!
Frustrated, Triple H warned CM Punk not to cross the line like that again, following which he sanctioned the big match. Both the trash talkers were now set to face each other and put their heated rivalry to rest at Night Of Champions.
CM Punk has essentially killed two birds with one stone. He managed to make Triple H look silly and more of a puppet than his character already looked at the time, and also managed to drive a wedge in the friendship between him and Kevin Nash.
ADVERTISEMENT
Article continues below this ad
Unfortunately, the big match never happened because Nash failed to pass his medical examination. The feud was quickly changed to CM Punk vs Triple H. Although, Nash did attempt to interfere and took the heat out on both the competitors. Triple H finally managed to knock out Nash with a sledgehammer and went on to win the match.
Even though Punk lost, he had strategically won. He hurt his rival in the best way possible. Triple H and Kevin Nash would go on to have a bitter feud that ruined their decades-long friendship completely.
ADVERTISEMENT
Article continues below this ad
Is Punk a master of divide and conquer? Probably. But no one has had more fun or leeway hurling 'wife' insults at Triple H in front a live audience as much as Punk has, that's for sure.