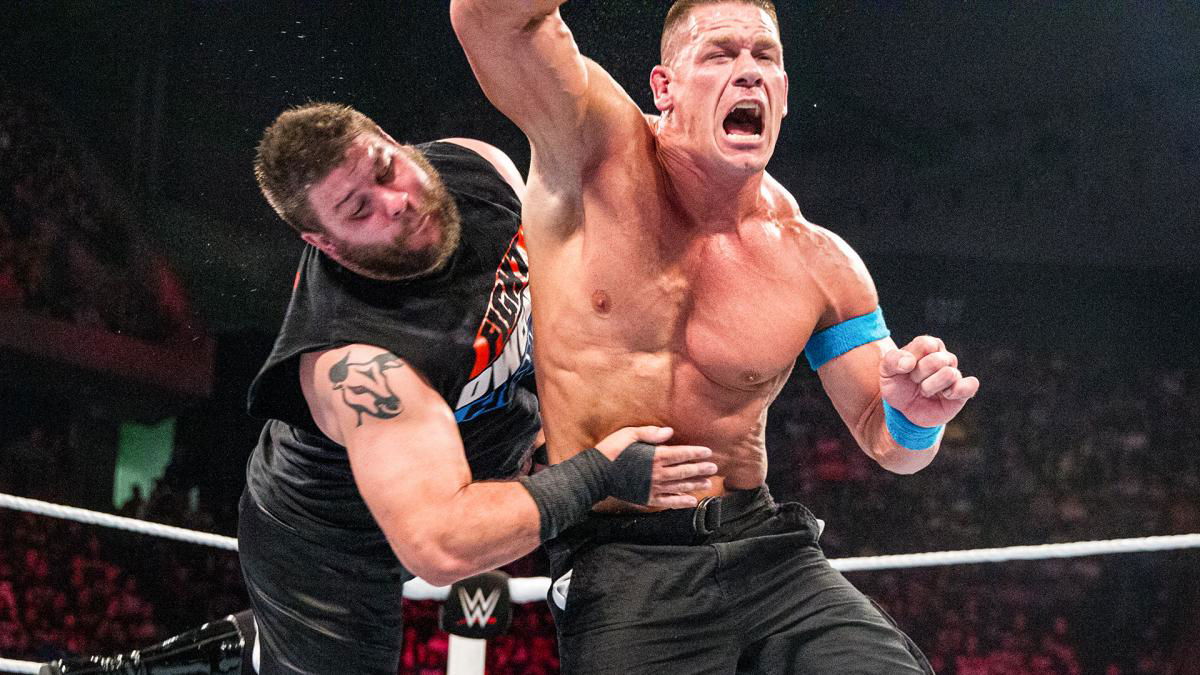 Retired wrestler Arn Anderson, in his podcast, recalled a match between Kevin Owens and John Cena at Elimination Chamber 2015. He talked about what he hated about the match and how they failed to cashed in Kevin Owens. 
Kevin Owens had one of the best main roster debuts in WWE. He was the best performer in NXT at the time. When John Cena announced an open challenge for the United States Championship, Owens appeared. He would go on to attack Cena, thus setting up their match at Elimination Chamber.
Arn Anderson on what he disliked about the matchup
Arn Anderson agrees that it was a great match. Fans got what they wanted, but there were certain aspects in the match that he wasn't fond of. 
"I'm glad it was such an awesome viewing experience ultimately for the fans who spent their hard-earned money to get it, and this match did let them know they were going to go all out for the fans to give them an 18-car car crash", Anderson said.
He mentioned how Kevin Owens delivers Cena's finisher to him and vice versa during the match. He says how it was good storytelling but questions if the original user of the move did not know a counter in case someone was to use it against him. 
"For John to kick out of that and to ultimately put Kevin Owens over is fine, If you're going to listen to the audience throughout this thing. Kevin Owens became a star that night. This is my humble opinion", Anderson explained. 
Kevins would go on to win the match by pinfall, but as it was a non-title match, he didn't win the championship. WWE did not want a newbie to get the title from the face of the company, but giving him a huge win and yet making him lose to Cena in their next encounter was not required.
Anderson believes Kevin Owens could have turned into a huge face
Arn Anderson thinks that Owens could have been the biggest babyface had he got the chance. He calls Owens an 'Antihero' who does more than what he looks like.
Anderson says," He can just be — not to say anything like Steve Austin's style, but he's the antihero. He's that guy that kicks ass; he's the everyday man that doesn't look like he could go out there and pop-up powerbomb, Mark Henry"
Kevin Owens did some excellent stuff in the match, and Anderson was a fan. He says the audience cheered for him and they wanted Owens to be the next babyface. Owens was given the win and had all the time with him, but WWE had a different plan. 
"He does some spectacular stuff. But the audience was cheering for him in a way that, 'Hey man, we like this dude.' Make him a babyface the very next day. Switch gears, because to put on that kind of performance to beat John Cena 1-2-3 with his finish — there's no bigger launching pad at that particular time. So go with it, switch gears, turn him into what they want to see", Anderson said.
WWE currently lacks a good babyface. The company heavily relied on the likes of John Cena for over a decade. While Roman Reigns is being pushed in the same route, somebody like Owens could have hit the right chords with the fans.
Owens had with him a great win. Putting down John Cena was something any beginner could dream of. WWE decided not to give him that turn, and although Owens has been rather successful with the company, he perhaps could have done better with the decent chances.