Kurt Angle Admits He Was Angry After Randy Orton Stole His Angle Slam in WWE
Published 06/28/2021, 9:00 AM EDT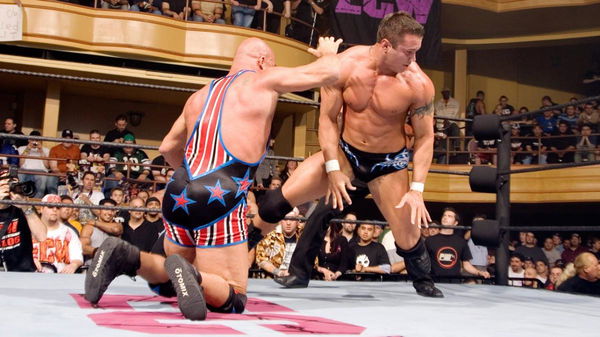 ---
---
Proverbs say imitation is the sincerest form of flattery. While many people might not live by it, WWE and UFC Hall of Famers, Kurt Angle and Ken Shamrock (respectively), certainly do!
ADVERTISEMENT
Article continues below this ad
For a little context – the Olympian picked up the Ankle Lock from "The World's Most Dangerous Man" in his early days. However, both men have no ill-will over the 'theft.'
Even in a recent appearance on The Kurt Angle Show, Ken once again cleared the air. The Olympian also thanked him for letting him use the move for all these years.
ADVERTISEMENT
Article continues below this ad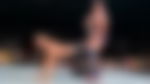 While answering why Angle took Shamrock's move, he said, "I wanted something legitimate. There is nothing more legitimate than Ken Shamrock and the Ankle Lock."
However, Angle was not so forgiving when it came to his moves. He recalled being upset when a young Randy Orton used his finishing move, Angle Slam once.
"I once picked on Randy Orton for doing the Angle Slam and I did not understand it at the time," he said. "He called me and said, 'why are you upset? It's a compliment I'm using your move.'"
"I'm like you are right Randy, I'm sorry," Angle revealed. The 'Viper' has not used the move in recent years and stuck to his own RKO finisher, which he also picked up from John Laurinaitis and Diamond Dallas Page.
Shamrock chimed in with the importance of copying, "To me, that's when you really pay tribute, when you done another move and you actually raise it to another level so congratulations on that, you(Angle) did a tremendous job with it."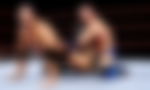 Coincidentally, Randy Orton's tag partner Riddle also copied the RKO on RAW, and Orton responded by copying Riddle's Bro Derek on the following week of RAW.
Watch this story – From Macho King to King Booker: The Greatest Kings of the Ring in WWE History!
Ken Shamrock is not happy when people ask him about Kurt Angle copying the ankle lock
Over the years, multiple people have asked Shamrock about his opinion on Angle and the leg lock. However, Shamrock maintained why it was pivotal for a move to be reproduced. If a move goes extinct, it is no good!
"Listen, somebody like you Kurt, and there are a lot of people out there who also used it. I tell you what man, that's an honor.I don't understand when people come and they say, 'Well, he took your Ankle Lock.'"
ADVERTISEMENT
Article continues below this ad
"You idiots, don't you know that every single move has come from somebody first? Like, somebody took it from somebody. The idea is that, for the move to stick around, you do a move, and nobody copies it; that's a problem," Ken Shamrock said.
Hence, the duo agrees on the importance of copying one's move and taking it to another level. Let us know your thoughts on the legends in the comments below.
ADVERTISEMENT
Article continues below this ad