It's safe to say that Kurt Angle has been instrumental in shaping WWE history. Even though he might not have as many titles as his contemporaries like The Rock, John Cena, Triple H and Shawn Michaels, he's certainly up there with the greatest when it comes to his contribution.
A professional wrestler is defined by what they give back to the business. In that area, Angle scores ten on ten. During his first run with the company, the Olympic Gold Medalist played a key role in putting over a young John Cena.
If it was not for the brash, egotistical character of Angle, the 'ruthless agression' of Cena wouldn't have been that effective.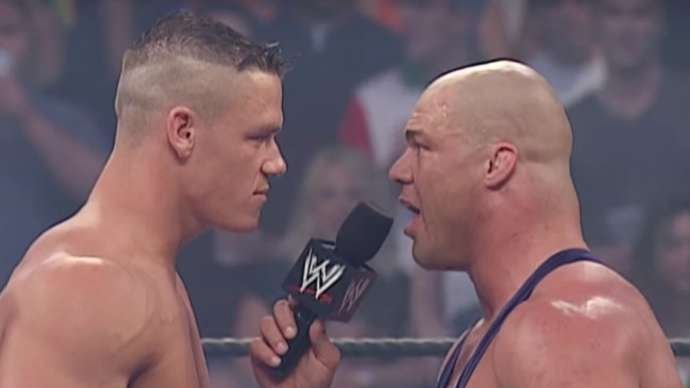 Read more – How Did Kurt Angle Win the Olympic Gold Medal with a "Broken Freakin' Neck?"
When he returned to the company after working in Impact Wrestling for a decade, Angle realized that he still needs to help build new stars. No one can forget how Angle tapped out to his own ankle lock against Drew McIntyre. Despite the humiliation he faced, that established the Scottish Psychopath as a legit threat.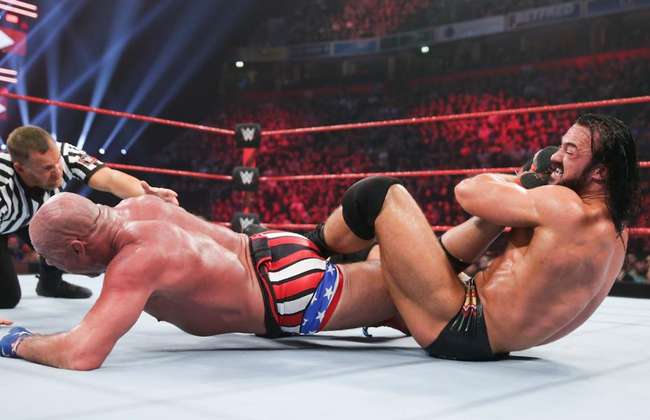 However, the biggest highlight of his second run has to be his work with Ronda Rousey. The UFC legend was touted as one of the biggest WWE signings ever. However, WWE is a biggest ball game altogether.
While MMA only tests your skills in combat sport, WWE requires you to be the complete package. Being saleable on-screen is what matters.
Angle teamed up with Rousey at WrestleMania against Triple H and Stephanie McMahon. Needless to say, Rousey became a fan-favourite within no time.
In a recent interview with Denise Salcedo oon the Instinct Culture Podcast, Angle explained his work with Rousey.
Kurt Angle heaps big praise on Ronda Rousey
Kurt Angle was all praise for Rousey. Even though he feels she left before coming into her own, her run still resonated with the fans.
Read more – The Rock Has a Special Message for a WWE Hall of Famer
"She did an excellent job. The one thing Ronda didn't do that she could/will do if she comes back, is that she never mastered the business because she wasn't in that long enough and what she did that whole year is incomparable. She dominated and she put on great performances, but we had to tell her, this is what you're going to do here, this is what you're going to do there.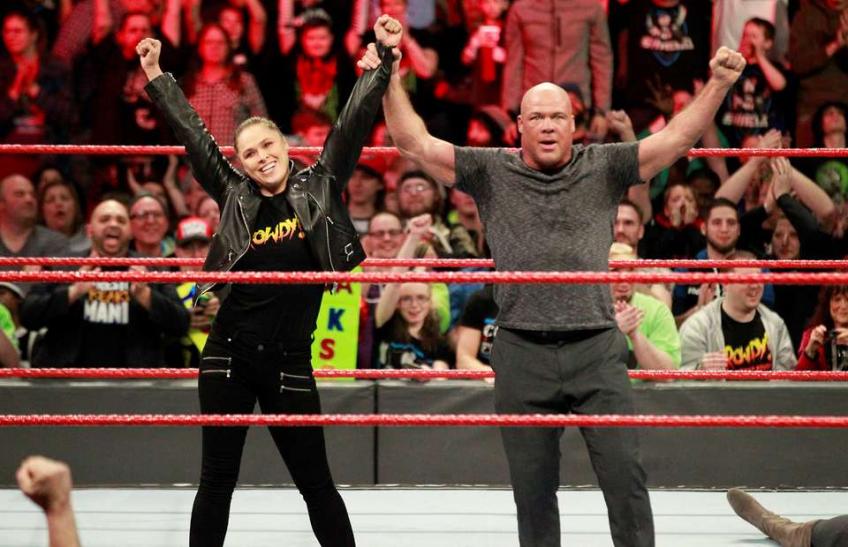 "We had to give her step by step instructions and go over it with her for multiple days, so she would be ready for the match, so she knew everything that was gonna go on. In the business once you get experience, which Ronda was getting it in the end before she left; you learn how to improvise and work on the fly. You come up with 50 percent of the match and then the other 50 percent you make it up as you go along…Ronda didn't get the opportunity to learn that but what she did in her first year, I would even say she had a better first year than Brock Lesnar or myself."
What stands out is Angle saying that Rousey had a better first year than him and even Brock Lesnar. While Kurt took 2-3 years to become a main-event level talent, Lesnar had a dream first year.
He defeated The Rock to win the WWE Championship, won the King of the Ring tournament and defeated legends like Hulk Hogan.
In comparison, Rousey's first year saw her becoming the Raw Women's Champion. She also had top-tier matches against the likes of Sasha Banks and Charlotte Flair.
However, the highlight will still be her WrestleMania main event. Along with Charlotte Flair and Becky Lynch, Ronda Rousey was part of the first all women main event of WrestleMania.
"She's one of the biggest names we've ever had"- Angle
Kurt Angle further praised Ronda Rousey. As per him, she's one of the biggest WWE acquisitions.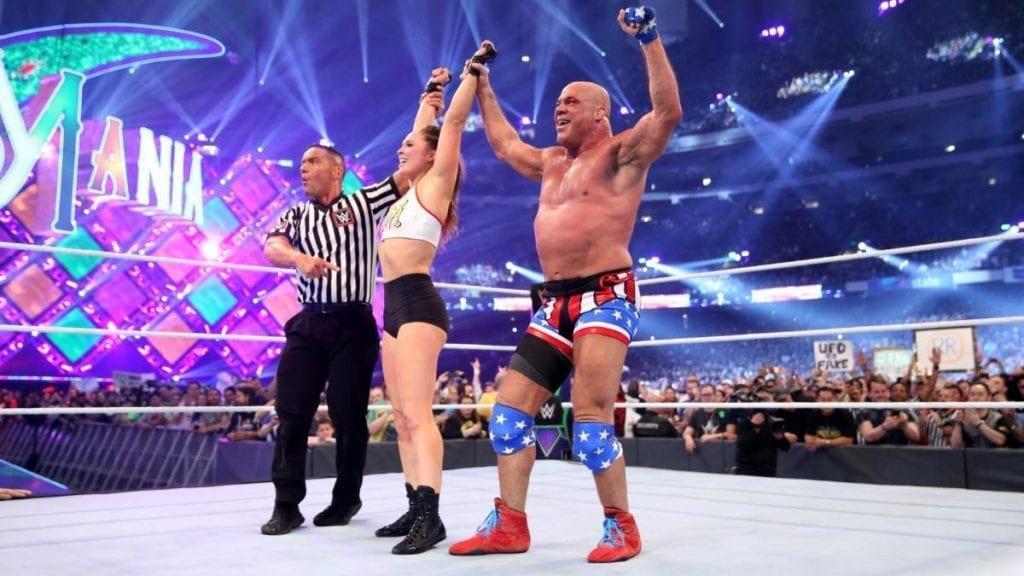 "I think she did incredibly well. But I think that WWE did an incredible job getting her ready for it… Ronda Rousey isn't just a plus for the women, she was a plus for the whole company," Angle continued. "Whatever amount she got paid, I am sure it was a lot, she deserved it. Ronda is a household name, everybody knows who she is, everybody loves her and she made a big impact in the business and she deserves to have that notoriety. She's one of the biggest names we've ever had, you can't deny that. She was easy to work with, I love the girl, I consider her my sister."
As of now, Ronda Rousey has no plans of returning to the ring. Her current plans are to start a family with her husband Travis Browne.
It's safe to say that it will be a long time before we see Ronda Rousey in a WWE ring again.
SOURCE: Instinct Culture Podcast