Kurt Angle on if He Was Jealous of the Rock: "I'm Not Gonna Lie to You"
Published 12/27/2021, 10:30 AM EST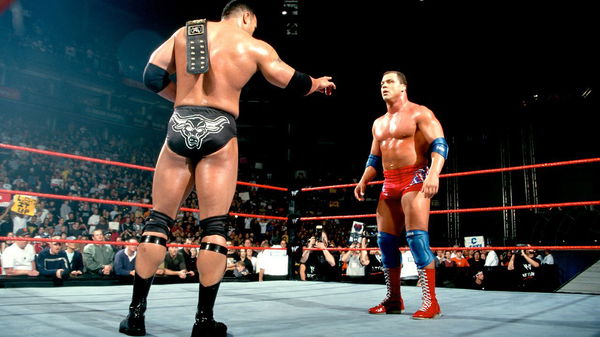 ---
---
The Rock has had many fantastic feuds in WWE with many legends. However, one of his most underrated feuds was with Kurt Angle. Angle and 'The Rock' faced each other many times, mostly for the WWF championship.
ADVERTISEMENT
Article continues below this ad
Recently, Kurt Angle dropped a new episode of his podcast, 'The Kurt Angle Show,' after Christmas. During the podcast, he talked about 'The Rock' and their feud.
ADVERTISEMENT
Article continues below this ad
Paul Bromwell called 'The Rock' great and the show's main attraction back in WWE. But at that point, Angle was also the champion. Therefore, Bromwell asked Angle that whether, at any point, did he feel that Johnson was the main attraction of the show?
Kurt answered the question with the most humble response. He said, "Well, you have to remember The Rock is The Rock. He's one of the biggest names in the history of the business."
Watch This Story: Roman Reigns' Spear to Brock Lesnar's F5: Most Devastating WWE Finishers of 2021
"So if The Rock or Stone Cold or Undertaker main events instead of you, you shouldn't be that upset," Kurt said.
The former WWF champion also said at that point he was just a rookie and that even though he was the world champion, those guys were a more prominent name than him.
"So I wasn't upset about that as long as I was getting paid as the world champion. I was okay with that either."
Kurt Angle talks about taking a backseat when The Rock, Stone Cold were in WWE.
Speaking on his first year at WWE, Paul Bromwell said that throughout the podcast, he learned that Kurt is "one competitive son of a b*tch." Kurt laughed at the statement as Paul said he couldn't imagine the Olympic medalist taking a backseat for anyone.
Kurt admitted that he was very humble in his first year with WWE.
"I'm not gonna lie to you. My first year, I was pretty humble. You know, I was trying to get people to like me and try to learn the business as much as I could."
ADVERTISEMENT
Article continues below this ad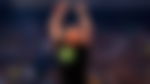 "So I wasn't looking to be like, THE guy my first year." To this statement, the host added that the former WWF champion was trying to learn about the business.
ADVERTISEMENT
Article continues below this ad
"You're not trying to rock any boats. You're trying to find your way to learn your craft, and then you were okay with that type of thing."
That patience from Kurt rewarded him well, as we will forever remember him as one of the greatest of all times!